BELMOPAN, Cayo District, Wed. June 21, 2017–Won Hong Kim never set foot on Belizean soil. Yet the South Korean national received a Belizean nationality certificate and a Belizean passport. At the time Mr. Kim came into possession of these sacred Belizean documents, he was lodged in a prison in Taiwan over an embezzlement scandal. How could this happen?
Ady Pacheco, an Immigration officer who has worked with the department for more than two decades, appeared as a witness before the Senate Select Committee today to explain how Kim was able to breach the system.
Pacheco was named in the Citizen Kim saga because, according to the Auditor General's audit of the Immigration Department, she accepted Kim's application even though she knew it was incomplete.
Pacheco confirmed to the committee that in the presence of her supervisor, Gordon Wade, former Minister Elvin Penner personally handed the Kim file to her, and promised to provide the required documents. Minister Penner's application was accepted, but he did not receive a receipt because he did not provide a police record. She said that she did not see Kim at the department and she did not inquire if he was there.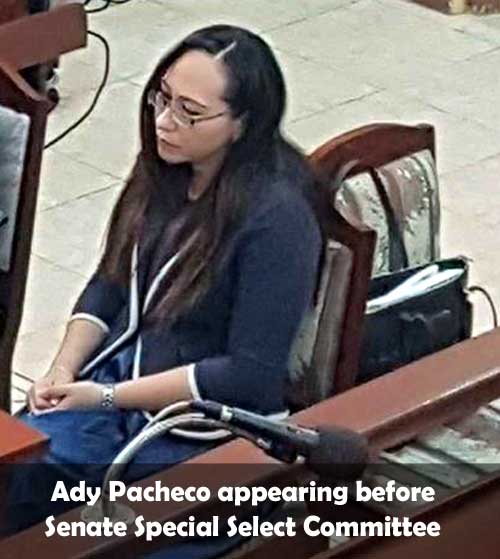 On the matter of Kim's incomplete application, she said she could not recall what was outstanding, though "it was nothing out of the ordinary at the time. Up to now I think there are still hundreds of files that are incomplete," she told the committee.
She said that in those cases where the applications were incomplete, she would only accept them and process them after receiving permission from Wade. However, she could offer no evidence to support this claim.
Some of those incomplete applications would be sent to Gordon Wade from Cabinet ministers, their drivers and secretaries.
She revealed that Wade would then instruct her to accept and process them.
She told us that she did so in fear of being transferred from her post. She told the committee that she felt intimidated by Ministers and their party officials.
"This is Belize; this is how it works, sadly, but it's the truth. If an officer does not comply with the request made by a minister, they simply move you to somewhere else," she said.
When the committee asked if Penner delivered on his promise to hand over the required documents for Kim's application, Pacheco indicated that she was unsure.
After 5 hours of interrogation, Pacheco was allowed to leave today's hearing. However, the committee indicated there was a possibility she could be called back to answer more questions.