Sports
— 29 November 2017
— by Dean W. Flowers – Vice-Chairman, BFA
BELMOPAN, Mon. Nov.27, 2017–The Belmopan Football Association (BFA) 1st Division Amateur 2017-2018 Opening Season Tournament continued over the weekend with Week 7 games on Friday and Sunday, November 24 and 26, at the Isidoro Beaton Stadium.
In the opener on Friday, (Group A) Capital United crushed Camalote Warriors, 6-1, with goals from Ashton Hyde (17' & 60'), Alex Cornelio (22') and Julian Maldonado (37', 78' & 81'); while Norman Neal (30') got the only goal for Camalote. And in the nightcap, (Group A) Juventus FC prevailed, 4-1, over Maya Mopan Rangers. Juventus goals were by Alance Ayala (41' & 46'), Levi Pixabaj (50') and Rai West (83'); while Edward Arthurs (65') scored for the Rangers.
Game 1 on Sunday saw (Group A) Valley United with the 2-0 win over Franks Eddy FC, courtesy of a goal each from Emerson Orellana (29') and Henry Nino (61'). In game 2, (Group B) Wingz FC edged Duck Run 2 Warriors by a 4-3 score. Shaking the net for Wingz were Ryan Saravia (20'), Brandon Peyrefitte (23' & 64') and Justin Wade (25'); while Rosny Martinez (14' & 72') and Marconi Obando (53') scored for the Warriors. And in game 3, (Group B) Ranulfo Alvarez struck twice (19' & 40') for Cotton Tree FC, and Jhawn Gamboa (27') and Elton Gordon (67') scored 1 apiece for Police FC, to come away with the 2-2 draw.
Below are the Week 7 standings for Groups A and B.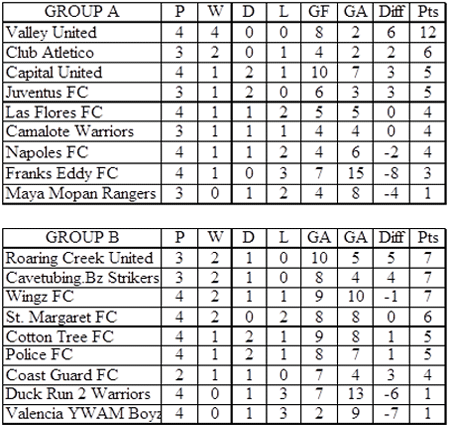 Upcoming Week 8 games at Isidoro Beaton Stadium:
Friday, December 1
6:45 p.m. – Juventus FC vs Napoles
8:45 p.m. – Coast Guard FC vs Roaring Creek United
Saturday, December 2
6:00 p.m. – Las Flores FC vs Franks Eddy FC
8:00 p.m. – Cave Tubing Strikers vs Duck Run 2
Sunday, December 3
2:00 p.m. – Maya Mopan Rangers vs Club Atletico
4:00 p.m. – Valley United vs Capital United
6:00 p.m. – St. Margaret FC vs Cotton Tree FC
Related Articles
Share
About Author
(0) Readers Comments