Gilroy "Fries" Martinez, 32, was marked for death by a young gang boss
BELIZE CITY, Mon. Aug. 28, 2017–Gilroy "Fries" Martinez, 32, a father of five, became the 7th person to be murdered in Belize City since the start of this month. He was shot twice in his head today, Monday.
According to police reports, sometime before 8 o'clock this morning, as Martinez entered a yard just a short distance from his residence on Curl Thompson Street, an artery of Jane Usher Boulevard, someone opened fire, killing him on the spot.
Martinez was taken to the Karl Heusner Memorial Hospital (KHMH), where medical examiners certified him dead.
In a press conference held today, Senior Superintendent of Police, Marco Vidal, revealed that two men have been detained in connection with Martinez's murder, which, according to Vidal, was gang-related.
Vidal further revealed that Martinez was no stranger to our criminal justice system, but he did not want to go into details about Martinez's police record.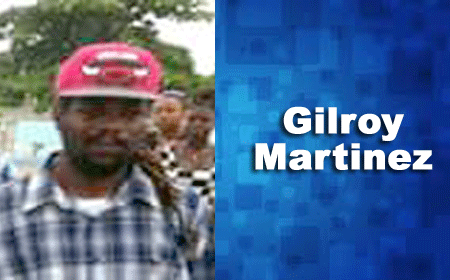 Sources close to Martinez have revealed to Amandala that for almost three months, he had been embroiled in a dispute with some neighbors. One of those neighbors, the self-proclaimed street leader of all the Jane Usher Boulevard gangs, just in his early 20's, had reportedly disapproved of Martinez's association with some other street figures.
On Saturday, tensions increased between Martinez and the "Jane Usher boss," who, according to our sources, marked him for death. On Saturday night two men went to Martinez's home and made their way to his front door. Martinez's common-law wife opened the door and screamed at the sight of the armed men, who then hurriedly fled the scene.
On Sunday morning, the men rode in front of Martinez's home and fired several shots. Fortunately, no one was injured. When Martinez peeked outside, the men had already gone.
No police report was made, but Vidal today confirmed that there were some interactions between the two groups just before the shooting murder.
Information to Amandala is that at the time of his death, Martinez was at the residence of the "Jane Usher Boss" to lodge a complaint to his parents. However, he never got a chance to do so, because he was shot as he entered the yard.
Martinez leaves behind five children, the youngest being a month old and the oldest being 11 years old.
Vidal today asserted that he would review the policing strategies in place to better counter the surge in crime and violence.
According to our sources, four major gangs operate in the general vicinity where this murder took place.