Features
— 04 February 2017
— by Bernard Wagner
Last week Saturday Belizean basketballer Devin Daly and his Team Fog Naestved of Liga – Basket Liagen won their first ever basketball championship in remarkable fashion, on the road, against the defending champions Denmark Horsens IC,and by the final score of 81-80.
According to the team's Fog website, Phillip Nolan was huge in the clutch, sinking one of two free-throws with 0.8 seconds remaining in regulation to give the triumphant Team Fog the long awaited championship; something which had evaded them since entering the league in 2001, and after three third place finishes in 2011, 2014 and 2015.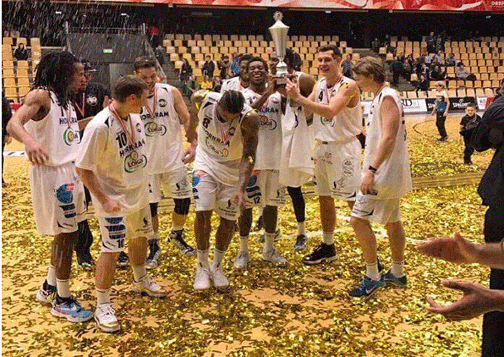 The win, according to the team website marked the first time that a sports team from Naestved has won a major sporting championship in Denmark. The win, however, was no walk in the park, but instead required Team Fog to overcome a seemingly unsurmountable 10-point deficit with just about 3 minutes remaining in regulation, something they did, on their way to their first ever pro-basketball championship.
Team Fog Naestved is coached by Milan Skobalj, and participates in Liga Basket Liagen – a professional basketball league established in Denmark. This was Daly's first stint with Team Fog, following a remarkable basketball career at Lake Superior State University. He did extremely well averaging 8.9 ppg 3.3 rpg 1.4 apg, in 19 games while maintaining and efficiency rating of 8.74.
Related Articles
Share
About Author
(0) Readers Comments