Features
— 23 July 2016
— by Wendy Flores and Roberto Pott
BELIZE CITY, Thurs. July 31, 2016–Fish is an important source of animal protein and contains nutrients that are essential for adult health and child development, and is not readily available in other food products. While, seafood consumption is not very high, in Belize compared to other countries, lobster and conch is an important export commodity for the growing tourist industry in Belize.
Finfish, such as grouper and snapper, are important sources of protein for Belizeans.
Overfishing, however, pressures fishermen to harvest less desirable species such as parrotfish and creates a burden on fishermen who depend on a constant supply of fish.
While efforts are underway to improve fisheries management and improve seafood supply to tourism outlets, researchers from Columbia University in collaboration with Healthy Reefs for Healthy People, the Toledo Institute for Development and Environment (TIDE), the Belize Fisheries Department and Harvard University are continuing work to answer important questions: which communities depend on seafood, and how has seafood benefitted households in Belize's society? How is the current status of fish populations affecting human health and the economy in Belize?
Preliminary results indicate that 44% of surveyed participants have noticed a change in the fish markets, and of these individuals, 44% have noticed that the fish sold is getting smaller over the years, 27% have noticed the price of fish increasing over the years, and 29% say that there has been less fish being sold.
This study focuses on studying the human health impacts of seafood consumption in the Toledo district. Toledo was chosen based on data showing occurrences of anemia and child stunting over the years. Improvements in health connected to stronger fisheries management regulations remain unclear.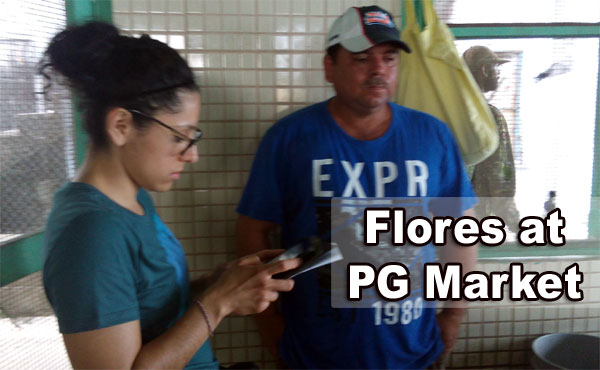 Flores is leading household surveys in Punta Gorda, Monkey River, Punta Negra, and Cattle Landing and seeks to understand perceptions of changes in fish supply in the markets, and household food consumption habits. Fishermen, who are licensed and now under the Managed Access program, are also included in the study to obtain their perceptions on the changes in fish catch over the years,
  Healthy Reefs for Healthy People intends to replicate this study like these in other coastal communities to develop reliable indicators that show socio-economic benefits for households directly related to health of the marine resources.
An earlier study conducted by Pott in Belize City suggested that households in Belize City were competing with hotels and restaurants as far away as San Pedro for high quality seafood and recent sampling of fish fillet suggests that angelfish is now showing up in San Pedrano plates.
Toledo has fewer hotels and restaurants and a smaller population and Flores' analysis, which will be completed in 2017, will help to understand how fisheries management is impacting human health in Belize and the relationship between nutrition and fish consumption that can facilitate improvements in policy and programmatic focus in regions in Belize with the greatest nutritional deficits.
(Wendy Flores is a researcher from Columbia University and Roberto Pott is the Social Scientist at Healthy Reef for Healthy People.)
Related Articles
Share
About Author
(0) Readers Comments