BELIZE CITY, Thurs. Dec. 22, 2016–Belizeans have expressed outrage over the recent revelation that Guatemala had since 2005 sneakily passed fishing regulations for the Amatique Bay, which includes Belize's southern waters in an area which we have determined to cover an estimated 100 square miles. The map unveiled this week by activist Wil Maheia of the Belize Territorial Volunteers, who received it from Barranco fishers, includes a line that extends from Guatemala's northeastern coastline up to Punta Gorda in Belize, without acknowledging Belize's border with Guatemala.
In a statement issued today, the Government of Belize called Guatemala's move "a flagrant violation of international law and Belize's maritime sovereignty."
---
Guatemala claims fishing rights over 100 square miles of Belizean sea
---
Leslie Colón, chair of Barranco Sustainable Fisherfolk Coop, told Amandala that on 20th September 2016, eight fishers from the Barranco area were invited to attend a meeting in Puerto Barrios, Guatemala, which was attended by a total of 30 fishers—the remainder of them being from Guatemala. The meeting was being facilitated under a bi-national project, Cross-Border Alliance for Healthy Fisheries, by EcoLogic, a US-headquartered NGO with a regional office in Quetzaltenango, Guatemala.
Amandala called the office of EcoLogic and when we explained the purpose of our call, it was disconnected. We called back repeatedly to reestablish contact, but there was no answer.
Colón said that they were given a map showing fishing zones which included Belize, and they brought the brochure to show Belizeans what was going on, because they became very concerned. He said that the Guatemalan fishers, including those from cooperatives in the Sarstoon area and Livingston, were saying that those are the areas they have usually fished; their traditional fishing grounds. He said that the concerns about fishing in the area center on shrimping and over-exploitation of the fisheries resources.
Amandala readers will recall that in March 2013—three years after Belize had banned trawling—a fleet of 20 Guatemalan trawlers were seen defiantly fishing near Punta Gorda, in what the Guatemalan regulations would characterize as zone 1 on the Guatemalan map, for which their regulations purport that no shrimp trawling should occur at night between July 15 and October 30.
Barranco fishers are told that Guatemalans have fishing rights up to Punta Gorda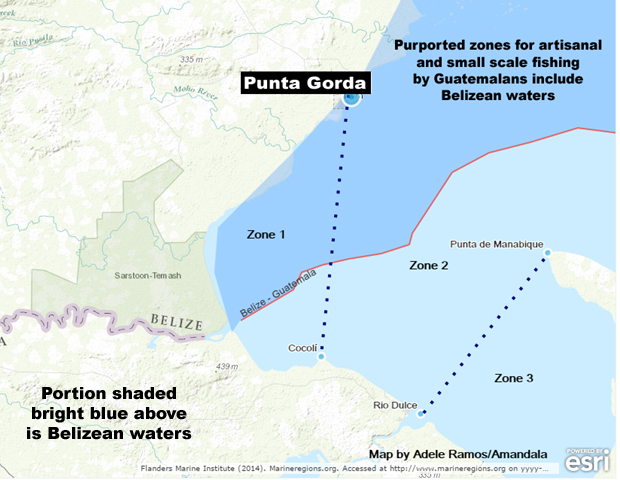 According to the Barranco fisher, the presence of Belize Coast Guard and Belize Defence Force officers in the area has kept down illegal fishing activities, although the area still appears to be a target of sporadic illegal fishing activities, as well as intrusions from the Guatemalan Armed Forces. Amandala readers will recall that back in October, six Belizean fishermen were detained by GAF while fishing in the area, and they were warned that the GAF would begin to assert themselves in waters which the fishermen know to be their traditional fishing grounds. However, Ministry of Foreign Affairs officials intervened, demanding that the fishermen be returned to where they had been found—a demand with which the Guatemalans complied.
Felix Enriquez, Chief Executive Officer in the Ministry of Defence, told our newspaper today that he was unaware of the drafting of the fishing zones to include Belizean territory and it is something that Belize will not accept. Enriquez told us that the Belize Coast Guard will have a forward operating base in the Punta Gorda area soon.
Hon. Said Musa, former leader of the Opposition's People United Party, was the Prime Minister at the time when the regulations were passed. He told us today that he had never seen the map of the fishing zones before he saw them on television last night; although he does recall that Belize and Guatemala had from time to time had disputes over fishing rights in the area. Amandala's attempts to reach Hon. Mike Espat, Minister responsible for fisheries at the time, were unsuccessful.
"I think Government should immediately protest this whole thing," Musa said. "It is totally unacceptable, man, that we could have them defining fishing rights in our territorial waters. We should immediately protest that!"
Musa recalled that when Guatemala purported to offer petroleum exploration rights over an area that included southern Belizean waters back in 1991, when he served as Foreign Affairs Minister, Belize immediately protested. Guatemala "backed down right away," and rectified the matter by removing Belize from their concession areas.
Neither Godfrey Smith, SC, who served as Foreign Minister in 2005, when the fisheries regulations were published, nor Lawrence Sylvester, who served as Chief Executive Officer then as well as now, knew anything about them, they both told us today.
However, Sylvester told us that he is not at all surprised, given Guatemala's stance in relation to Belize.
"Belize knows where its boundaries lie in accordance with the 1859 Treaty—it's land boundary," he said, adding that the treaty does not at all address the sea.
When we mentioned that Belize's territorial seas are defined under international law, the CEO concurred, adding that regardless of our certainty of what we are entitled to under international law, it is "a moot point, if there is a claim."
In an official release this evening, the Government of Belize said, "…the maritime spaces of Belize are established by the Maritime Areas Act of Belize, which is wholly in accordance with international law."
It added that, recent reports in the media have referred to purported fishing zones claimed by Guatemala under its domestic legislation and regulations of 2002 and 2005.
The release claimed that, "…nothing has ever been done by Guatemala, at time of passage and certainly not now, to seek to apply any zoning or administration regulation to Belize's internal and territorial sea or Exclusive Economic Zone."
It added that, "…Belize absolutely repudiates any and all aspects of the Guatemalan legislation and regulations that, even if only on paper, attempt to interfere with our territorial integrity. Moreover, such attempts are completely rejected by, and invalid under international law."
Related Articles
Share
About Author
(0) Readers Comments