SARSTOON RIVER, Toledo District, Thurs. July 21, 2016–With the nation's attention fully gripped by the case of the murder and beheading of Belizean pastor/political aspirant Llewellyn Lucas, it appears that the Guatemalans have seized the opportunity to enter Belizean waters to "rape and scrape" the fisheries resources at the Sarstoon, as Wil Maheia, founder of the Belize Territorial Volunteers (BTV), has put it.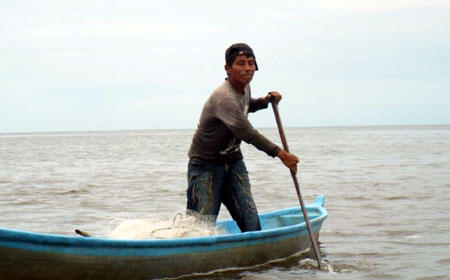 Maheia said that he visited the area yesterday with three Belizean-Americans, who were shocked when they saw roughly 100 Guatemalans fishing on the Belize side of the Sarstoon, some of them throwing their gill nets right in front of the Forward Operating Base (FOB), inaugurated by Belize earlier this year—supposedly to stem illegal activities in the area.
Maheia said that the Guatemalan skiffs had ventured well into Belize territory, between the Sarstoon and the Temash, and when they saw him, they scrammed over to the Guatemalan side—perhaps thinking that they were Fisheries enforcement officers.
However, he was able to capture photos of the illegal incursions and fishing in the area by Guatemalans. Amandala shared those images with Retired Colonel George Lovell, chief executive officer in the Ministry of National Security, who told us that this was the first he had heard of the incident. Lovell told us that that level of activity at the Sarstoon, even by Belizeans, should have been reported.
Having seen the pictures, Lovell told us later today that those persons appear to be artisanal fishermen from the Guatemalan side, who, he said, should not be fishing beyond the mid-channel of the river and inside Belizean waters.
Lovell indicated that Belizean officials were talking with the Guatemalans about both of our armed forces and peoples having joint use of the river, and that the Guatemalans wanted Belize to allow their people to continue fishing in the area.
He said that he knows of incidents where Belize's security forces used to confiscate and cut up gillnets.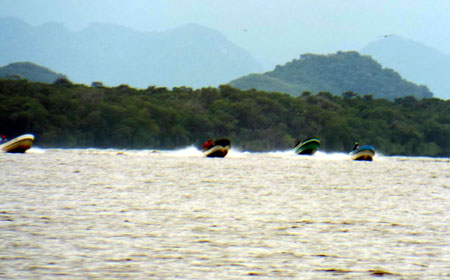 Gillnet fishing is illegal at the mouth of the Sarstoon, under Belize laws; furthermore, only licensed fishers are allowed to commercially exploit those resources and even so, Belize has restrictions on the length of nets that can be used and the mesh size of those nets.
Today, Maheia informed us, "They had over 2000 meters of gillnets in the waters. It was insane!"
Lovell told us he is investigating the matter but had yet to get a report from Belize Defence Force Commander, Brigadier General David Jones.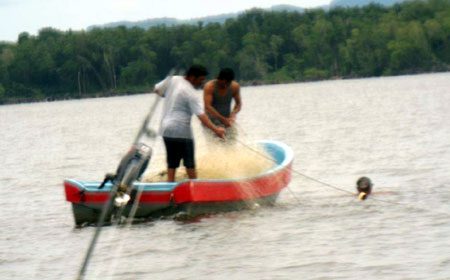 Maheia told Amandala that there was a boat docked at Belize's FOB, where he believes officers of Belize's security forces were on duty.
Amandala reporter Rowland Parks, who covered the opening of the FOB earlier this year, has indicated that even at the time of the launch, there were Guatemalans fishing a stone's throw from the FOB.
Related Articles
Share
About Author
(0) Readers Comments