Lifestyle diseases and homicides are top killers in Belize over a 5-year period
Official data supplied to Amandala by the Ministry of Health indicate a clear trend, demonstrating that heart disease, cancer and diabetes are the top 3 killers among Belizeans, with unintentional injuries (such as traffic accidents and manslaughter) and homicides, rounding out the top 5 causes of death in the country from 2008 to 2012.
Deaths from HIV were the sixth most prevalent over the period.
The data indicate that since 2008, nearly 500 Belizeans have been murdered, but twice as many lives have been claimed by the silent killer known as heart disease. Cancer was the second leading cause of death, claiming in excess of 800 lives over the 5-year period.
Dr. Marvin Manzanero, head of the Epidemiology Unit in the Ministry of Health, explained that the most cancer deaths among women are due to cervical cancer, but
among men, prostate cancer is most prevalent. There were also deaths from cancer of the stomach, lung, breast, liver, and colon, according to information published in the Ministry's Epidemiology Bulletin of January/February 2014.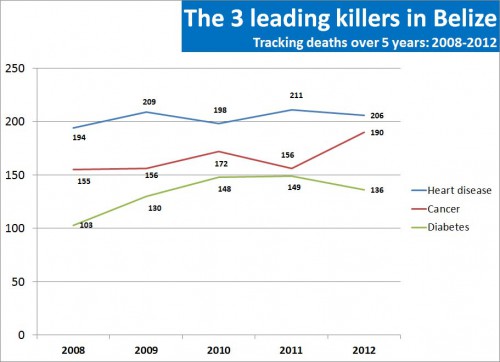 "You would expect that older people would be dying, but that is not necessarily true," Manzanero said.
He noted that there have also been deaths among children from cancer. In 2012, for example, 7 children of ages 14 and younger died from cancers such as leukemia and cancers of the brain stem, of the ovary and of the bone.
The 2013 data, said Manzanero, show the same trend. He told us that the 2013 data have not yet been finalized because they are undergoing the process of manual reconciliation with the Karl Heusner Memorial Hospital and a few clinics which have not been reporting via the Belize Health Information System (BHIS).
The three top killers, said Manzanero, are considered non-communicable diseases (NCD), meaning that you can't contract them from others. What are health authorities doing to reduce the frequency of deaths from these diseases? Dr. Manzanero said that they are working on establishing an NCD unit, in line with their new strategic plan for NCDs.
"We really should not be having so many people dying," said Manzanero, speaking of the need for adequate screening.
He said that, "Lack of exercise, diet and the fact that we don't access prevention at [an] early stage are contributing factors."
Hypertension and obesity are commonly linked to lifestyle diseases.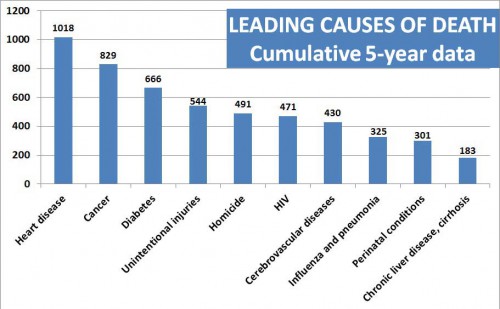 Manzanero described homicides as a public health concern.
He also noted that the deaths from HIV often occur because people seek medical help when it is already too late.
After HIV, cerebrovascular diseases—which include stroke and brain hemorrhage due to blood pressure, and diabetes—ranked 7th.
"Those again are preventable," Manzanero said.
According to Dr. Manzanero, they are also beginning a study on influenza.
Nearly 1,500 Belizeans die each year from various causes. The official data indicate that a total of 7,410 Belizeans died between 2008 and 2012.