Sports
— 30 September 2017
— by Bernard Wagner
2017 Interoffice Finals series now even at 1-1; third and decisive game tonight
BELIZE CITY, Fri. Sept. 29, 2017–After being held by the Belize Bank Bulldogs to just 34% from the field on 25-of-74 shooting last Friday night in game 1 of the 2017 Interoffice Basketball Championship series, and eventually losing by the final score of 87-72, the Dragons, fortunately, were able to regroup quickly and bounce back on Saturday night with the huge 86-73 win, thus sending the series to a third and decisive game tonight at Swift Hall Auditorium in the St. Martin De Porres area.
The Dragons, in game 2, managed to turn the table on the defending champs, Bulldogs, employing a stifling defense which resulted in a woeful shooting night for their opponents, as they could only muster a shooting clip of 38%, on 29-of-76 from the field. Meanwhile, on the other side of the coin, the Dragons lit up the night, hitting 35 of 69 attempts from the field, on their way to the 86-73 win. Andrew Vasquez had a bounce-back game of his own, notching 28 points, as his Dragons were able to establish a lead of as many as 19 by half-time, and never looked back. Akeem Watters and Eyan Rene continued their consistent ways, totaling 17 points and 23 points, respectively, in the win.
Conversely, after having a huge 34 points 9 rebounds outing on Friday night, Bulldogs big-man in the paint, Brian White, was essentially kept in check on Saturday night; and while he did manage to record a double-double (14 points 15 rebounds), his scoring output was obviously shaved down to within a more manageable region. His teammates – Dominique Guzman added 15 points, followed by Lincey Lopez and Roderick Williams with 12 points each.
The third and decisive game is now set for tonight, as the Bulldogs seek the three-peat championship, while the Dragons look to record their first such championship.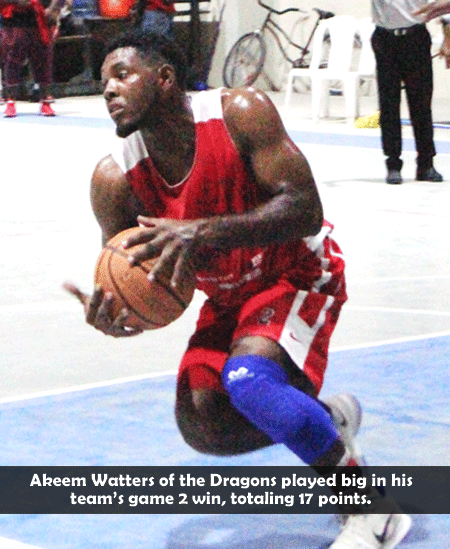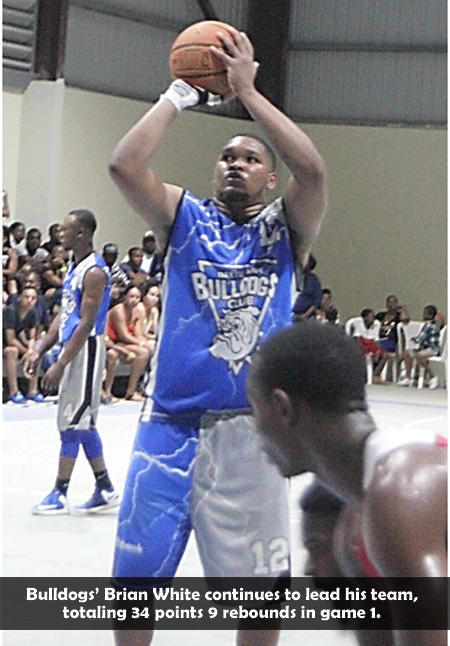 Related Articles
Share
About Author
(0) Readers Comments