August 1, 2017
Editor Sir,
Last June, Ecology Project International (EPI)-Belize selected two of its most active alumni to participate in a two- week internship to work on the Human Jaguar Conflict Project with Ya'axche Conservation Trust (YCT) in southern Belize. Following our marine ecology course with EPI earlier this school year, both of us – Juan Guerrero, from St. Viator High School, and I from Ocean Academy – continued to share a passion for learning more about the environment and have been very active in conservation efforts in our home communities – Sarteneja and Caye Caulker. We were excited to participate in this project, this also being our very first time visiting the Toledo District. The internship was from July 9 – 22..
In southern Belize many cattle farmers have the problem of jaguars attacking calves during calving season during this time of year. Each time such attacks occur, it results in significant loss to a farmer since a considerable amount of time and resources is invested in raising a calf. To protect their livestock, farmers tend to resolve the problem by shooting and killing the problem jaguar or hiring someone to get rid of it. The tracking and killing of the jaguar is also costly for the farmer.
However, killing jaguars is not a sustainable solution to the problem. Jaguars are arguably the face of tourism in Belize. They are one of the many reasons that tourists are attracted to Belize's terrestrial environment, including The Belize Zoo and Cockscomb Basin Wildlife Sanctuary. To combat this problem, the Human Jaguar Conflict Project (HJC project) was developed. The purpose of this project is to promote a healthy co-existence between cattle farmers and jaguars by implementing mitigation measures on farms to prevent jaguars from attacking cattle. Provided by Ya'axche at no cost to cattle farmers, these mitigation measures aim to resolve the problem without killing the jaguar. Without the implementation of projects like the Human Jaguar Conflict Project, jaguars will continue to be shot on cattle farms in Belize.
Juan and I started our work on the project by assisting in the implementation of ten demonstration farms. These demonstration farms were set up to test the success rate of the mitigation measures. To implement the demonstration farms, we visited several communities in Toledo and interviewed cattle farmers who had reported incidents of jaguars attacking calves on their farms. We did this to find out information about the number of attacks on their farms, the location of the attacks, the months of their calving season and so on.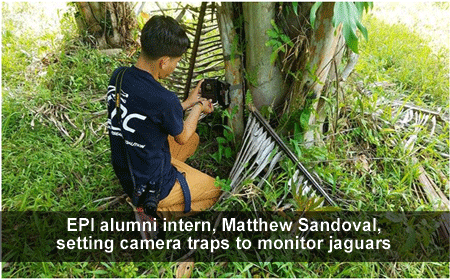 After our interview we would ask farmers if they were willing to be committed to the project. If the answer was yes, monitoring (which is done by camera trap) would begin. Monitoring is done to find out what type of human and wildlife activity occurs in and around the farm. This information is important because it helps us find the part of the farm where we should concentrate on mitigation measures. Some of the mitigation measures included the use of solar lights and donkeys, and keeping calves in the corral. Since the project is months long and we were only participating in the first stages, we were not able to be there to see the mitigation measures implemented.
As part of the monitoring process a database had to be created which we did from the ground up. Compiling and analyzing data proved to be a very tedious process. It involves sorting through the raw images, and logging the date, time, species, sex, number of photos, farm, location and the camera from which those images came. The work also included categorizing all images in spate folders by date so that they can be located and accessed easily. At times, these tedious tasks were a bit frustrating. The cameras which are triggered by motion can't tell the difference between a blade of grass blowing across in wind and a passing wildlife. When this happens (which it did many times) the camera would be filled with thousands of images of blades of grass that we still had to scrutinize individually to make sure we didn't miss any animal.
Besides working on the Human Jaguar Conflict Project we were provided hands-on opportunities to learn about other aspects of conservation. A large part of this was farm monitoring, which is done on agroforestry farms mainly growing cacao. Agroforestry farms are far more sustainable than traditional slash and burn farms, as they preserve more of the local environment. These farms are monitored for the presence of bio-indicators, which are species that have been selected because of their key role in the eco-system. The amount of bio-indicators or lack thereof can be used to gauge the health of the surrounding environment. Aside from farm monitoring we also took part in rosewood monitoring in the Golden Stream Corridor Preserve. This is part of a long-term project to find out when the trees produce optimal seed pods. Once this information is determined the next step will be to start replanting the prized rosewood trees nationally.
I can't express my gratitude enough to Ms. Connally Canto, Program Assistant at Ecology Project International, and Program Coordinator, Corey Constantino for arranging this internship with YCT. Thanks also to EPI's Program Manager, Mr. Jerry Enriquez, for taking the time out to visit us in the field. We are also very grateful to the team from YCT, including Mr. Marchilio Ack, Protected Areas Manager; Ms. Karla Hernandez, Project Manager; and the rangers at Yaaxche field station for guiding us through this wonderful and very inspiring learning experience.
This internship took us out of our comfort zones and exposed us to the rugged life of Toledo's rainforest and communities in a way that made us more deeply appreciate our country. As we participated in this study and learned about the challenges to the ecosystems in southern Belize, we gained a deep appreciation of a unique part of our own country that we had never seen before. It was a rare treat to visit Boom Creek, Aguacate, Indian Creek, Golden Stream, San Pedro Columbia, Hicatee and Big Falls and other communities and see the rich diversity of our Belizean people. In these communities, we also tasted new foods that we had never eaten before.
Those two weeks with the research team at Ya'axche gave us a precious chance to engage in real field-based science work to help protect these ecosystems and also get an eye-opening exposure to southern Belize. I wish more Belizean youths can get such an opportunity. The internship was truly inspiring, so much so that I might just change my academic major when I go to junior college, to something geared more towards conservation. With the knowledge that I gained from this internship, I feel more prepared to take on challenges to promote conservation awareness in my own community, even if it only makes a slight difference. After all it's the small incremental changes that snowball over time to become great change.
Sincerely,
Matthew Sandoval
Recent high school graduate
Ocean Academy, Caye Caulker
Related Articles
Share
About Author
(0) Readers Comments