BELIZE CITY, Mon. Oct. 16, 2017–Defending champion and league leading Belmopan Bandits SC posted another victory over the weekend, against BDF, and became the first team to secure a spot in the Premier League of Belize (PLB) 2017-2018 Opening Season playoffs. The Bandits got another game winner from captain Elroy Smith at the 89th minute to break a 1-1 deadlock against BDF FC at the Isidoro Beaton Stadium on Saturday night. Darrol Lambey gave BDF the 1-nil lead at the 15th minute, but an own goal by BDF's Charles Grant (48' OG) made it 1-1, until midfielder Rene Leslie's pass set the table some thirty yards out for advancing Bandits defender Elroy Smith. Smith touched it once, then rifled a right-footed blast to the left corner, beyond the reach of diving BDF goalkeeper Brenton Garcia, who was substituting for their ace in goal, Tevin Gamboa. With 4 weeks of regular season games remaining, the loss by BDF has put them within the reach of San Pedro Pirates, Placencia Assassins and Wagiya in the race to make the top-4 playoffs. (See standings below.)
Also on Saturday, out at Ambergris Stadium, it was home standing San Pedro Pirates FC with the 3-1 win over Placencia Assassins FC. The Pirates got a goal each from Hector Martinez (28'), Inri Gonzaga (45') and Luis Mencias (90'); while the Assassins only goal was by Ashton Torres (46').
In other weekend games, on Sunday afternoon at the Norman Broaster Stadium in San Ignacio, the much anticipated match-up between Verdes FC and Police United FC saw no goals scored, as it ended in a 0-0 stalemate. Meanwhile, in the "battle of the south" at the Carl Ramos Stadium in Dangriga, the young home-squad Wagiya gave their fans a lot to cheer about, as they shook the net 6 times on their way to a 6-2 victory over visiting Freedom Fighters FC from Punta Gorda. Rising young star, Krisean Lopez led Wagiya with a hat trick (14', 23' & 36') along with a goal apiece from Warren Moss (45'), Byron Chavez (66') and David Marshall (85'); while Freedom Fighters got a goal each from Yusef Vernon (56') and Zidane Hines (59').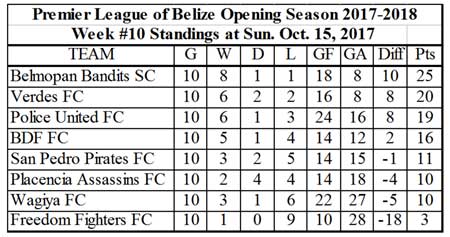 Week 11 schedule:
Saturday, October 21
4:00 p.m. – BDF FC vs Verdes FC – FFB Stadium
7:30 p.m. – Placencia Assassins FC vs Wagiya FC – M.A. Stadium
Sunday, October 22
4:00 p.m. – Freedom Fighters FC vs San Pedro Pirates FC – Victor Sanchez Union Field
5:00 p.m. – Police United FC vs Belmopan Bandits SC – Isidoro Beaton Stadium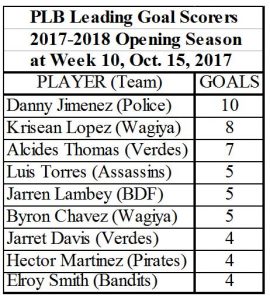 Related Articles
Share
About Author
(0) Readers Comments