BELIZE CITY, Mon. Feb. 5, 2018– All four games in Week 4 of the Premier League of Belize (PLB) 2017-2018 Closing Season were scheduled for this past Sunday, but only three were played; the Wagiya FC vs Belmopan Bandits SC game at the Carl Ramos Stadium was postponed due to the field condition following heavy rains.
In a close and controversial contest at the Ambergris Stadium, home standing San Pedro Pirates FC clinched a 2-1 victory over visiting BDF FC when Colombian import Carlos Pertuz blasted from point blank range past BDF goalie Tevin Gamboa.  Highking Roberts had given the Pirates the early lead at the 16th minute, but Shane "Chucky" Flores caught Pirates goalie Yusef Guerra out of his goal and drove in the equalizer for BDF shortly after resumption of play at the 47th minute.  Pirates' Highking Roberts was clearly in offside position, when the ball passed near him before Pertuz fired off the game winning shot, but a no-whistle from referee Christopher Reid suggested "no interference" with the play, a point of strong contention by BDF fans.
Meanwhile, at the Norman Broaster Stadium in San Ignacio, league leading Verdes got their fourth straight win, as they clipped the visiting Placencia Assassins, 2-0, with a goal each from Alcides "Paco" Thomas (8') and Elroy "Bibbs" Kuylen (47').
And later in the evening yesterday at the Isidoro Beaton Stadium, a late penalty conversion by Marlon "El Matador" Meza (81' PK) secured the 2-1 victory for Police United FC over a game Freedom Fighters FC from Punta Gorda.  Freedom Fighters had taken the early lead through Kyle Flowers (12'), before Police got the equalizer from Carlton "Fubu" Thomas (28') to level things before halftime.
Week 4 Standings: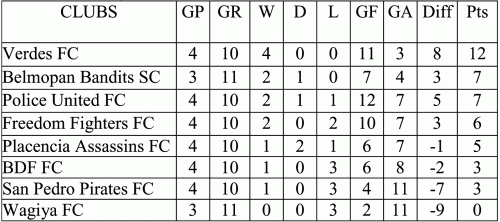 Upcoming Week 5 schedule:
Saturday, February 10
7:30 p.m. – Placencia Assassins FC vs BDF FC – M.A. Stadium
Sunday, February 11
4:00 p.m. – Verdes FC vs San Pedro Pirates FC – Norman Broaster Stadium
4:00 p.m. – Freedom Fighters FC vs Belmopan Bandits SC – Victor Sanchez Union Field
5:00 p.m. – Police United FC vs Wagiya FC – Isidoro Beaton Stadium
Related Articles
Share
About Author
(0) Readers Comments