BELIZE CITY, Mon. Jan. 29, 2018– Both basketball and football games were rained out in Belize City over the weekend, where the MCC was deemed unplayable on Sunday for the CYDP Peace Cup finals; and the Belize Elementary Gym was also affected enough on Saturday night to cause the cancellation of the basketball clash between the NEBL's Smart Belize Hurricanes and Belize City Defenders, both based in the old capital. But basketball and football games in the rest of the country were played as scheduled.
Week 3 in the Premier League of Belize (PLB) 2017-2018 Closing Season saw Punta Gorda's Freedom Fighters sending a strong message to the rest of the league with their big win over Wagiya, which pushed them to third in the standings. (See standings below.)
On Saturday night at the M.A. Stadium in Independence a first half goal by Ashton Torres (29') was enough to give home standing Placencia Assassins the 1-nil victory, over San Pedro Pirates FC who suffered their third straight loss of the season. Also on Saturday night, it was Belmopan Bandits SC registering the 2-1 win over Police United FC at the Isidoro Beaton Stadium. The Bandits got first half goals, from Darwin Bermudez (21') and Hector Martinez (37'); but Police could only respond with a single second half strike from Andres Makin, Jr. (59').
Having moved their home game to the FFB Stadium on Sunday, BDF FC fell, 3-1, to defending champion Verdes FC, who cruised to a 3-1 victory after leading 3-nil at the half, with a goal apiece from Brandon Jones (16'), Jarret Davis (19') and Desmond Wade (36'). BDF's sole tally came from the penalty spot through Trimayne Harris (54' PK). Meanwhile, down south at the Victor Sanchez Union Field in Punta Gorda, it was home standing Freedom Fighters FC all the way, as they bombed Dangriga's Wagiya FC, 6-nil, with goals from Chakey Martinez (9'), Evan Mariano (32'), Zidane Hines (35'), Gabriel Ramos (73' & 75') and Myron Cadle (91').
 PLB Standings at Week 3:

Leading Goal Scorers: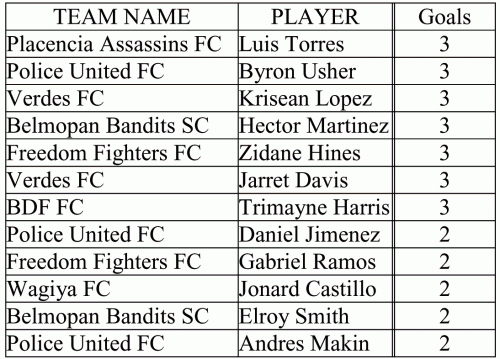 Upcoming Week 4 games:
Sunday, February 4
3:00 p.m. – San Pedro Pirates FC vs BDF FC – Ambergris Stadium
4:00 p.m. – Wagiya FC vs Belmopan Bandits SC – Carl Ramos Stadium
4:00 p.m. – Verdes FC vs Placencia Assassins FC – Norman Broaster Stadium
5:00 p.m. – Police United FC vs Freedom Fighters FC – Isidoro Beaton Stadium
Related Articles
Share
About Author
(0) Readers Comments