General
— 25 March 2017
— by Adele Ramos
BELIZE CITY, Wed. Mar. 22. 2017–According to the Chief Executive Officer of the Belize Central Prison, Virgilio Murillo, almost half of the 474 persons who were remanded to prison during 2016 were there for bailable offences. Data published in the 2016 Ombudsman's report gave a breakdown of the categories for which persons were on remand, and pointed to lengthy remand times of as many as 10 years.
Of the persons remanded, 251 were there for murder, for which they cannot seek bail. Additionally, there were 83 remanded for crimes of dishonesty, which include theft, burglary, robbery and handling stolen goods.
Persons remanded for violent crimes—harm, maim, wounding and aggravated assault—amounted to 38, while those remanded for sex crimes amounted to 21.
The accompanying graph gives the full breakdown, as well as a summary of the duration for which the persons have been remanded.
According to Murillo, the remand population at the prison has hovered around 500 yearly, which represents roughly a third of the prison population. Among them are 43 convicted of murder and 66 convicted of manslaughter. There are 122 convicted on firearm offences and 26 for attempted murder.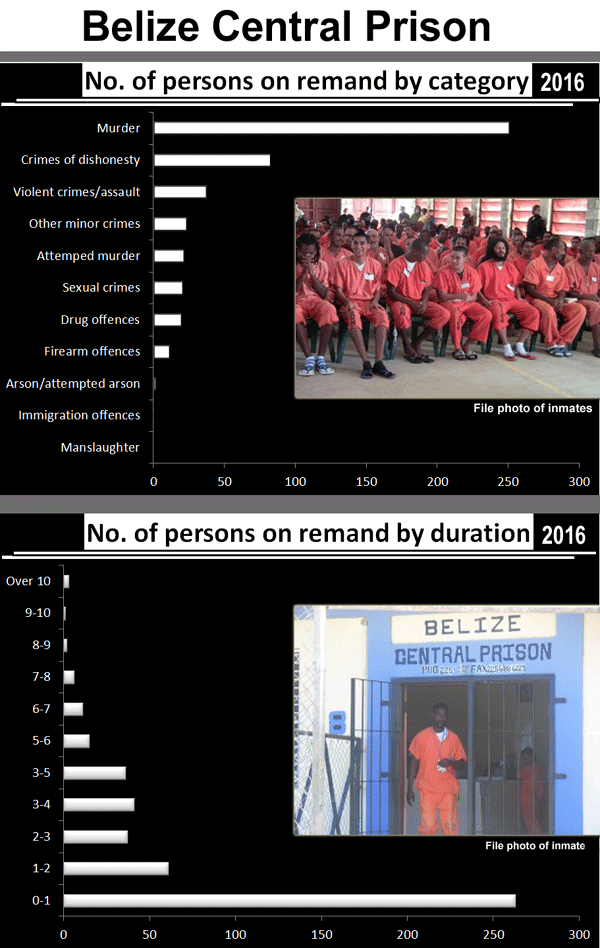 Related Articles
Share
About Author
(0) Readers Comments