BELIZE CITY, Mon. Aug. 20, 2018– Already, three weeks have gone by in the Premier League of Belize (PLB) 2018-2019 Opening Season, and Police United FC is on top of the standings with a 3 and 0 record, followed closely by defending champions, Belmopan Bandits SC, who have 2 wins along with a season-opening draw (0-0) against the now struggling BDF FC. (See standings below.)
Week 3 games began with a Thursday night affair, followed by one game on Saturday and two on Sunday.
At the Isidoro Beaton Stadium on Thursday night, it was the Belmopan Bandits SC, 5-nil, over winless Wagiya FC, with goals coming from Georgie Welcome (3' & 68'), Luis "Baaka" Torres (6'), Rony Sanchez (38') and Norman Anderson (88').
Saturday night at the M.A. Stadiun in Independence, home standing Altitude Assassins FC were laid low by visiting San Pedro Pirates FC and their new addition, Mexican Eduardo Chavirra, who netted all 4 goals (7', 33', 75' & 91') in the 4-0 Pirates victory.
On Sunday afternoon at the Victor Sanchez Union Field in Punta Gorda, the visitors were again rough on their hosts, as visiting Police United FC dealt a 6-nil trashing to home standing Freedom Fighters FC (who have a back match remaining with San Pedro Pirates). Sharing in the scoring for Police United were Jehoshaphat Nnendi (17' & 20'), John King (46'), Shane "Chucky" Flores (62' & 75') and Marlon "El Matador" Meza (92').
Meanwhile, the home team was also on the losing end at the MCC Grounds in Belize City, where Verdes FC cruised to a 4-2 win over BDF FC. Verdes jumped to a commanding 3-0 first half lead, and saw no need to activate top strikers Jarret Davis and Krisean Lopez, although BDF made the second half interesting. Verdes' first goal was a penalty conversion by Roberto Silva (30' PK), after Gilroy "Bredda" Thurton was taken down in the eighteen. The official report has Erlin Gutierrez (39') and Darrell Myvette (45') next; but we saw Gutierrez send a ground pass across goal for Bredda Thurton to score, and then Denmark Casey's high center from the left wing all the way to the right side found the head of Verdes' right defender Collin Westby. The fourth was by left midfielder Nahjib Guerra (64') after a fine run into the eighteen. BDF got two nice goals also. After a head clearance by Verdes defender Elroy Smith, BDF midfielder Victor Moralez (46') collected and immediately countered from 20 yards with a low shot beside the post that beat goalkeeper Zeron Sagastume. And near the end, after a free-kick rocket by BDF midfielder Jeremy Gentle rebounded out off the cross bar and was cleared by a Verdes defender, advancing  BDF defender Orland Trapp (88') collected and navigated towards the Verdes eighteen, culminating with a left foot blast that tore into the upper left corner of the net past a bewildered Sagastume. Nevertheless, referee Efrain Guy soon blew the long whistle; 4-2, Verdes FC over BDF FC.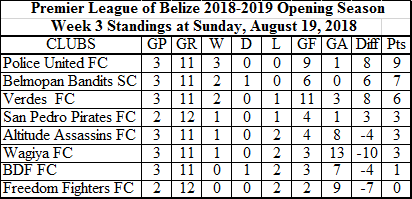 Week 4 schedule:
Saturday, August 25
7:30 p.m. – San Pedro Pirates FC vs BDF FC  –  Ambergris Stadium
Sunday, August 26
4:00 p.m. – Police United FC vs Belmopan Bandits SC  –  Isidoro Beaton Stadium
4:00 p.m. – Verdes FC vs Altitude Assassins FC  –  Santa Elena Sporting Complex
4:00 p.m. – Wagiya FC vs Freedom Fighters FC  –  Carl Ramos Stadium
Related Articles
Share
About Author
(0) Readers Comments