BELIZE CITY, Tues. Sept. 19, 2017–Already, six weeks have been completed in the Premier League of Belize (PLB) 2017-2018 Opening Season, and defending champions Belmopan Bandits SC (yes, the league says that's their name again) extended their lead in the standings, after their second consecutive shutout victory. (See standings below)
Freedom Fighters FC from PG had a promising start, winning their opening game of the season, but have faded since, losing their next five encounters. Unless things turn around quickly for the young PG squad, their playoff hopes will be fast disappearing.
It's a double round-robin competition, so one game remains to complete the first round.
Two games each were played over the weekend on Saturday and Sunday.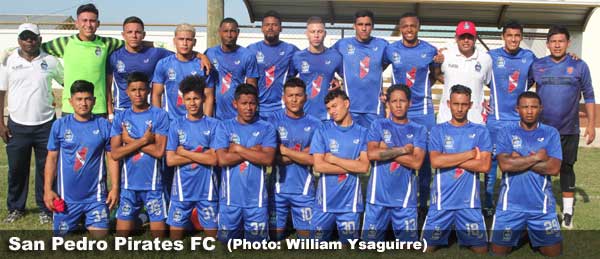 At the Ambergris Stadium on Saturday afternoon, home standing San Pedro Pirates FC got a goal each from Louis Valdez (12'), Jesse Smith (20' PK) and Hector Martinez (29') on their way to a 3-2 win over Police United FC, who got a goal apiece from Camilo Sanchez (16') and Daniel Jimenez (57'). Meanwhile, at the MCC Grounds in Belize City, it was BDF FC with a 2-nil victory over visiting Wagiya FC, courtesy of goals by Brian Martinez (16') and Shane "Chucky" Flores (90+2') in injury time.
On Sunday afternoon at the Norman Broaster Stadium, visiting Placencia Assassins FC, held host to Verdes FC in a 0-0 stalemate. Meanwhile, down south at the Victor Sanchez Union Field in Punta Gorda, Belmopan Bandits SC registered a 2-0 win over home standing Freedom Fighters FC.
Bandits' Honduran imports Georgie Welcome (23') and Kervin Johnson (63') shared the scoring.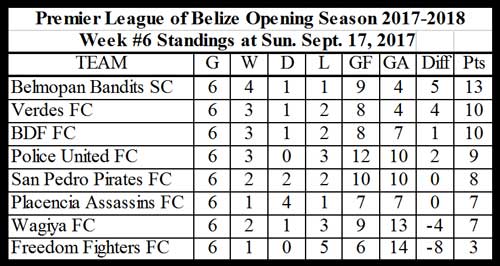 Upcoming Week 7 games to complete the first round:
Sunday, September 24
4:00 p.m. – Wagiya FC vs Belmopan Bandits SC – Carl Ramos Stadium
4:00 p.m. – Verdes FC vs San Pedro Pirates FC – Norman Broaster Stadium
4:00 p.m. – Freedom Fighters FC vs BDF FC – Victor Sanchez Union Field
5:00 p.m. – Police United FC vs Placencia Assassins FC – Isidoro Beaton Stadium
Related Articles
Share
About Author
(0) Readers Comments