BELIZE CITY, Thurs. Dec. 1, 2022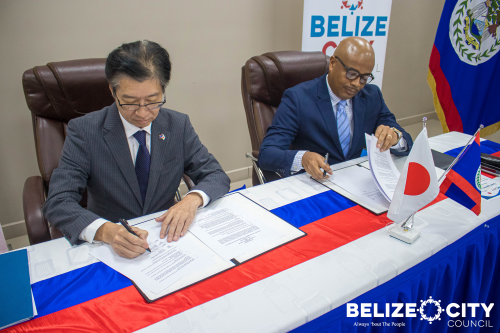 In a ceremony held at City Hall on Wednesday, November 30, 2022, the Belize City Council and the Embassy of Japan in Belize officially signed a grant contract worth $534,100.00 BZD. This grant falls under the Government of Japan's Grassroots Human Security Project, which allows developing countries to apply for grant assistance to be allocated to projects that promote economic and social development at the grassroots level. The program welcomes project applications that address challenges in multiple areas such as agriculture, health, environment, sanitation and more. In March 2022, the Belize City Council submitted their application for funding to purchase two new garbage compactor trucks. The signatories on this grant contract are Mayor Bernard Wagner of Belize City and H.E. Ambassador Kazuhiro Iryu of the Embassy of Japan here in Belize.
According to Mayor Bernard Wagner, with this grant, the council's fleet of compactors will now increase from three to five, and this purchase should notably improve garbage collection. Mayor Wagner also noted that the procurement of these trucks are even more vital due to the impact of Hurricane Lisa on Belize City after it made landfall on November 2, 2022.
Japan recently held celebrations in October of this year in honor of the 40th anniversary of diplomatic relations between Belize and Japan, and Ambassador Iryu made note of this celebration in his address at a handing-over ceremony and expressed his wishes to continue nurturing the relationship with Belize on behalf of the Japanese government.
Other municipalities which have previously benefited from the Government of Japan's Grant Assistance for Grassroots Human Security Project include the Corozal Town Council, Punta Gorda Town Council, Orange Walk Town Council and the San Ignacio and Santa Elena Town Council.