COROZAL, Wed. Nov. 23, 2016–Roughly 12,000 Belizeans, more people than the population of Corozal Town, crossed the northern border to travel to Mexico last weekend as Mexico hosted its annual Buen Fin—its version of Black Friday—meant to get Mexican shoppers to spend their money in Mexico rather than in the US.
Immigration officials have told the press that the usual border traffic is about 7,000, and this weekend's buzz at the border is certainly more than was created for last year's Buen Fin. Generally speaking, it appears that border traffic to Mexico has increased, with even slower days, such as Mondays and Tuesdays, seeing more people crossing the border to Chetumal. Meanwhile, the reverse traffic from Mexico to the Commercial Free Zone at Mexico's border with Belize, at its peak, is about 4,000, our sources say.
Belizean shoppers were willing to endure hours of traffic bottlenecks to shop in Mexico—delays which we are told were due to a mix of factors, including a Police and Traffic Department checkpoint, transitions in border procedures and lack of management of the two-way flow of traffic.
Whereas shoppers who traveled to Mexico for Buen Fin saved big—some reports say as much as 70 cents on the dollar—the spending by Belizeans last week runs in the millions (based on per person spending), although exact estimates are not available.
Buen Fin is organized by Mexico's private sector to attract more business from their customers, key among them being Belizeans. The National Chamber of Commerce, Services and Tourism of Mexico had set up a huge red and white billboard specifically inviting Belizeans, (in both Spanish and English) to take advantage of the "huge discounts" that would be available in shops, hotels and restaurants over the weekend dubbed "Buen Fin," from November 18 to 20, 2016.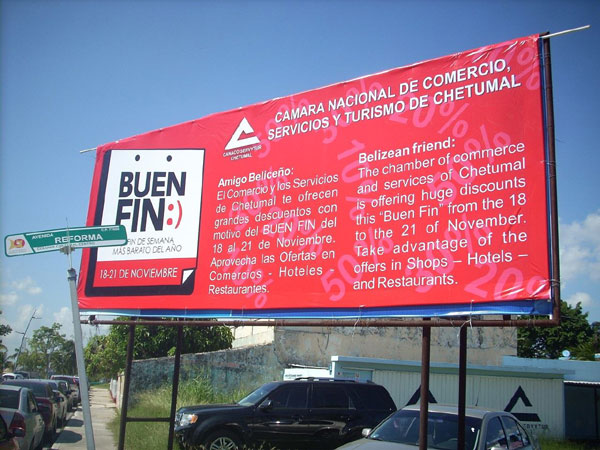 Hugo Juárez Carrillo, Counsellor, Border Affairs and Press, at the Embassy of México in Belize, which invited Belizeans to Mexico for Buen Fin via a Facebook post, said that Buen Fin is organized nationwide in Mexico as the equivalent to Black Friday in the U.S., held right before the Thanksgiving weekend.
Since there is no Thanksgiving holiday in Mexico, businesses there, traders and service providers, have decided to hold the event annually on the weekend before Black Friday. They invite people to spend their money in Mexico instead of crossing the border and spending in the US, he said.
Carrillo was in his hometown, Guadalajara, Mexico, over the Buen Fin weekend and he took advantage of the two-for-one deal offered at a local dental clinic there. He said that in his hometown, the traffic was also terrible, and so he did not visit any stores to shop, although discounts were as high as 50-70% on some items.