SAN IGNACIO TOWN, Cayo District, Mon. Feb. 24, 2020– After key matchups this past weekend, the National Elite Basketball League (NEBL) is bouncing into Week 7, which is the mid-way point of the regular season, with teams establishing greater chemistry. All scores, standings, schedule and player stats can be found on our website at neblbelize.com. All games can also be followed live online on our webpage by clicking on the game at the top of the website. When fans click on the game, the live stats for that game will be accessible.
Benny's Belize Hurricanes bounced Bandits in Belmopan.
Belmopan Bandits hosted Benny's Belize Hurricanes on Friday night at the Hilltop Basketball Court in Belmopan. Bandits jumped out to an early 22–12 lead at the end of the first quarter, which they extended to 17 points mid-way through the second quarter, going into intermission with a 42–34 lead. Hurricanes went on a 33–18 run in the third quarter, to take a 7-point lead going into the final quarter of the game. Despite Belmopan narrowing the gap to 5 points in the fourth, the visiting squad was able to hold on the lead, to seal the 89–83 victory. Benny's Belize Hurricanes was led by newcomer Dominic Shuler, who tallied 23 pts, 9 rebs and 3 steals, while Jamal Kelly recorded his season high with 22 pts, 4 assists, 3 caroms and 3 dimes. Jamell Harris finished the night with 18 pts and 9 rebs, while Glency Lopez had 10 pts in his season debut. Khalil Jabbie was the top scorer in a losing effort, netting 30 pts to go with 11 assists and 5 rebs, while Jevaughn McKenzie scored 18 pts and grabbed 6 rebs. Richard Smith III sank 17 pts and grabbed 9 rebs, while Brandon Rodgers chipped in 11 pts.
Verdes remains undefeated at home.
On Saturday night, Verdes hosted Griga Dream Ballers at the Sacred Heart College auditorium. Dangriga jumped out to a good start, taking an 18–17 lead at the end of the first quarter. Verdes was then able to hold Griga to only 11 second-quarter points, to take a 38–29 lead going into the half. The game was a see-saw affair in the third quarter, as Griga was able to cut the deficit to only 2 points, trailing 49–47 going into the fourth quarter. Mid-way through the third quarter, Verdes was able to pull away, to grab their third consecutive home victory, 69–54. With the win, Verdes and Defenders are the only two teams with 1 loss, while Griga Dream Ballers dropped to a surprising 1–4 record. Verdes was led by last year's MVP, Kris Frazier, who tallied another double-double with 22 pts and 14 rebs, while Tyrone Hall and Richard Troyer chipped in with 12 pts apiece. Howard Arzu was the top scorer for Griga Dream Ballers with 15 pts and 5 rebs, while Edgar Mitchell tallied 13 pts, 5 boards and 3 assists, and Delvon Henderson posted a double-double with 12 pts and 13 rebs.
Orange Walk Running Rebels wins 2 straight for first time in franchise history.
Punta Gorda Panthers traveled up north on Saturday night to take on Orange Walk Running Rebels in an attempt to stop their 3-game losing streak; while the home squad was looking for their first 2-game winning streak, in franchise history. The game was evenly contested, with a 19–19 tie at the end of the first quarter; after which, the Panthers had a 42–36 lead at intermission. In the third quarter, the Running Rebels regained the lead, 77–75, going into the fourth quarter. In the fourth quarter, the home squad was able to maintain the lead and secure the 88–81 victory. Isaiah Thomas was the top scorer for Orange Walk Running Rebels with 17 pts to go with 7 assists, while Brian White tallied another double-double with 16 pts and 12 rebs. Roger Reneau posted 14 pts and 4 dimes, while Dajuan Cooper and Tyrie Orosco sank 12 and 11 pts, respectively. Punta Gorda Panthers was led by Jevonte Hughes, who had the game high 25 pts to go with 7 boards, while D'Von Campbell finished with 17 pts and 5 assists. With the win, Orange Walk Running Rebels have won two consecutive games for the first time in their franchise's history, while PG Panthers is now reeling on a 4-game losing skid.
Defenders ousts Tiger Sharks to sit atop NEBL standings
"Nobody roots for Goliath." – Wilt Chamberlain
Between these lines … by Glenn Tillett
Fri. Feb. 21, 2020
San Pedro Tiger Sharks' big man Martevuius Adams must at times feel like Gulliver among the Lilliputians. He is the biggest player in the league, and he takes a pounding, a ton of abuse, usually without complaint.
Tonight, his frustration finally boiled over and, after a hard shove of an opposing player and pointed words to the referee in the fourth quarter, he was gone. And with his ejection, so did whatever chances the defending champions had of winning the game and remaining in first place, also exit.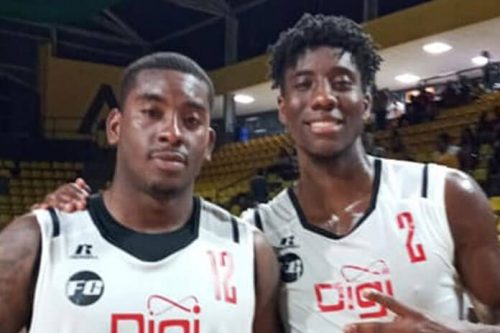 Digi Defenders' (l to r) Devin Daly and Luther Page
The Tiger Sharks never led tonight's game at the Civic by da Riva; their hosts, Belize City's Digi Defenders were primed, ready and eager for revenge in "the clash of the titans," a game between the two teams tied for first place and a return match, the Defenders having lost the first game out on the island. Unlike that game, Digi quickly bolted out to a double-digit lead that at times ballooned to near 20 points, and only narrowed to single digits twice.
But despite that fact, it was a competitive game that had playoff intensity, lots of hard fouls, and an on-court altercation. Unfortunately, Digi's guard Shaquille Crawford had to be taken to the locker room via stretcher after a horrific fall and never returned.
As with all good stories, it had drama and melodrama. The matchup of the teams' shortest players, Digi's Mykeil Tzul versus the Sharks' Francis "Frank" Arana, was well worth the price of admission. Both are speedy fireplug guards who can shoot and play pesky defense. Both are two of the fiercest never-say-die competitors you will ever see.
The combination of Adams and Arana is a basketball classic, one almost diminutive but fleet and quick, the other a large, ponderous presence. The Sharks are a different team when either is off the court, especially Adams; and with him, they're near unbeatable on their home court out on the island.
Matt Smiling's guys wanted to push the pace from the opening tap to negate Adams' presence in the middle, and that worthy was on the bench for long periods in the first half, as Rico Black sought to conserve him for the stretch run. Indeed, they managed in the third to cut the lead to just 4 points on an Adams layup; but he had to return to the bench, and it ballooned into double digits again.
Digi lost Shaquille Crawford at the end of the third, and Matthew Smiling went to a four forward line-up, all lithe, lean and mean, length and speed, of Devin Daly, Luther Page, Farron Louriano and Nigel Jones, along with Tzul. And that, as they say, that was what it wrote.
Adams' layup, again, brought the Sharks within 9, 80-71, with 7:40 left to play; but two personal fouls and two technical fouls later he was gone with 6:28 remaining.
Digi seized sole possession of first place with the win, and if they can beat Orange Walk's Running Rebels next Friday at the Civic, not only would they have run their win streak to 6, but more importantly, would have recorded a victory over nearly every other team in the tournament. It's still early, but none could deny that they are the class of the NEBL if that was the case.
(Digi Belize City Defenders – Luther Page 23 pts 9 rebs, Nigel Jones 22 pts 3 rebs 4 stls, Devin Daly 21 pts 4 rebs 5 stls, Mykeil Tzul 13 pts 6 assts. San Pedro Tiger Sharks – Francis Arana 27 pts 4 rebs 8 assts, Antone Robinson, Jr. 17 pts 10 rebs, Martevuius Adams 15 pts 3 rebs, Jihad Wright 11 pts 6 rebs.)
Upcoming games:
Friday, February 28
8:45 p.m. – Digi Belize City Defenders vs Orange Walk Running Rebels at Belize Civic Center
9:15 p.m. – Belmopan Bandits vs San Pedro Tiger Sharks at Hill Top Basketball Court
Saturday, February 29
7:00 p.m. – Verdes vs Punta Gorda Panthers at Sacred Heart College Auditorium
9:00 p.m. – Griga Dream Ballers vs Benny's Belize Hurricanes at Russell Chiste Garcia
Auditorium
Feature photo: Verdes basketball team