BELIZE CITY, Mon. Dec. 4, 2017–The gruesome double murder in Belize of Canadian national, Francesca Matus, 52, and her American boyfriend, Drew DeVoursney, 36, remains unsolved seven months later. Belizean investigators had listed Canadian national, John Deshaies, 54, as a person of interest, but he had publicly denied any involvement in the double slaying.
Deshaies was never charged in connection with the murders and it went below the radar. It seems that he has now been cleared as a suspect.
In an online article published on Friday, People magazine revealed that a person living in the United States has been identified as "a person of interest" by the Federal Bureau of Investigations (FBI), which has taken interest in the matter because an American national was killed.
In an exclusive interview with People magazine, DeVoursney's mother, Char Devoursney, explained that a federal agent continues to travel to and from Belize to conduct investigations. She went on the record to say, "A lot of them [FBI agents] were over there in the very beginning and then the one FBI agent we heard got assigned to the case … he comes and goes back and forth to Belize to check what's going on, and he had been over there recently. And I think this is how this news came about now."
According to her, over the last few weeks she learnt that investigators "had a person of interest that was in the U.S."
These updates have only come through the State Department because neither Char Devoursney nor her family has had contact with Belizean investigators or with the FBI. When the matter was raised in the Police Media Group on Saturday, police officials simply ignored it.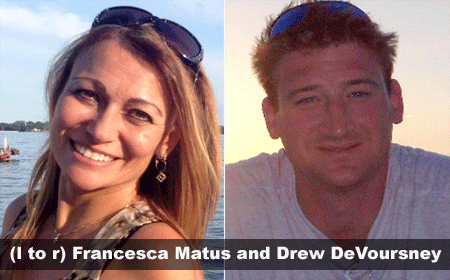 On the night of April 25, Drew DeVoursney, a Marine Corps veteran, and Francesca Matus, a real estate agent, were seen leaving Scotties Bar in Corozal Town. It was a gathering held to celebrate the fact that Matus was to leave for Canada on April 26 to see her two children.
After the couple left Scotties, they were not seen again until May 1, when their bodies were found, with their limbs duct-taped, in a cane field in the Corozal village of Chan Chen.
A post-mortem examination revealed that they had both died from strangulation. Their vehicle was found ten miles away. Belizean investigators did not reveal any motive for their murder. Robbery was ruled out because the two had not been relieved of their belongings or cash.