BELIZE CITY—Belize border patrols continue to come across new camps with evidence of fresh incursions into Belize – nd even attempts by Guatemalans to set up huts in Belize – and although illegal logging remains a persistent problem, Belizean authorities have so far not landed any arrest since the start of 2014, according to Rafael Manzanero, Executive Director of Friends for Conservation and Development (FCD).
Illegal logging incursions now stretch 12 kilometers (7.5 miles) into Belize, reaching into the Chiquibul Forest Reserve in Cayo, and the acreage has expanded from 7,530 hectares a year ago to nearly 10,000 hectares or roughly 40 square miles today – that's a zone of influence much larger than Belize City, the country's largest municipality.
Manzanero, who organized a presentation in San Ignacio on illegal logging inside Chiquibul today, told Amandala that Belizean security forces have to be more tactical, because the illegal loggers have found an easy way to elude security forces by working at night, when there are no patrols.
"There were three persons detained and processed last year. This year, we have not even detained a single person," Manzanero revealed.
"The main point is that there have been evolving environmental threats in the Chiquibul, arising from illegal logging and xate cutting," he also said.
Although xate activities have been on the decline, illegal logging operations continue to expand, and milpa farms are being replaced by expanding marijuana plantations, fueling greater national security concerns.
Manzanero said that the FCD's work presented today has been supported with BZ$110,000 from the EU-FAO program, the Forest Law Enforcement Governance and Trade (FLEGT), which has also funded a recently-concluded project in neighboring Guatemala, similar to that undertaken by the FCD.
He said that the Guatemala counterpart study resulted in a diagnostic of illegal logging, primarily in areas such as south Petén.
"Just like here in Belize, there is a sort of a finger-crossing, in identifying who is involved," said Manzanero.
He told us that the investigations on that side of the border revealed a problem with corruption within the security forces and other authorities. Manzanero said that Guatevision, the sister TV station of Prensa Libre, visited Belize to document the illegal logging happening inside the protected areas, and they were taken to the Caracol Archaeological Reserve so they could document the devastation of the forest there.
From milpa to marijuana at Cebada
Manzanero said that there are plans to erect a new conservation post at Cebada, a top priority area due to expanding drug cultivation activities.
"Our interest there is that there has been a more progressive movement of milpas. What has been contained in the Rio Blanco zone is now moving north to the Cebada region, but more importantly, we have been able to detect the cultivation of drugs, of marijuana," he said.
According to Manzanero, they discovered 37,500 acres of marijuana a little over a year, and it is evident that drug cultivation, miles into Belizean territory, has rendered the zone more dangerous. Drug cultivation continued to be evident well into 2014.
Illegal huts discovered
Within the past few months, joint patrols have also come across illegal huts inside Belize t
erritory.
Manzanero said that whereas the huts do not appear to be permanent dwellings, they suggest that domiciles were being set up for families. They found bicycles and dolls onsite, which Manzanero said meant that people were really just starting to settle on the Belize side of the border. However, the security forces have demolished the huts and destroyed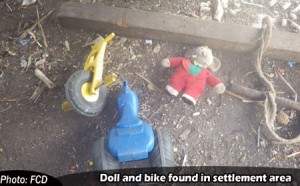 the marijuana fields.
He said that if Belize security forces do not have a presence on the ground, the chances of illegal migrants seizing Belizean lands and erecting their dwellings is greater.
Crime crisis in the City means border on back burner
Whereas Government officials have received a set of recommendations aimed at bolstering border surveillance, there are concerns that the spiraling crime crisis in Belize City, which has resulted in the redeployment of Belize Defence Force officers to City streets, means less manpower on the border.
However, FCD is still hopeful that the Government will ensure the establishment of the new conservation post at Cebada, which will require, at the least, 9 security personnel, as well as forestry and conservation personnel, to help stave off increased illegal marijuana farming and illegal logging in the area.