BELIZE CITY, Mon. Sept. 3, 2018– The Football Federation of Belize's (FFB) National Over-40 Football Tournament 2018 concluded yesterday at the MCC Grounds, where Kulture Yabra Veterans claimed the championship, after securing a 2-1 victory over San Pedro Veterans in game 2 of the Finals series.  Yabra got 2 first half goals, both headers, the first from Steve "Gellies" Young (26') and the second from Charlie Slusher (45').  Yabra forward Albert "Chicken" Arnold assisted on both goals, sending a corner from the left side for Gellies, and floating a center from the right side for Charlie, who had replaced the injured Mervin "Rugged" Flores at the 25th minute.  San Pedro goalie Aldon "AC" Augustine was injured on the play, which may have occurred inside his six-yard box, but the goal stood.  Ten minutes later, the league's leading scorer, Yabra's Kevin Rowland was given an instant red card on a disputed call by referee Hermain Tzib, after Kevin had lifted his leg high to kick an air ball that was simultaneously being headed by San Pedro sweeper Jarvin Velasquez.  San Pedro was already dominating midfield play, with Orlando "Landy" Pinelo orchestrating their attack, and with the one-man advantage the rest of the way, the Yabra defense was severely tested by the Hendricks brothers, Oliver and Christopher, with goalie Anthony "Willlie Bo" Bernard forced to make a number of fine saves.  Godsten Ferguson was heroic in the Yabra defense, along with sweeper Allie Thurton, whose clearance kick bounced off a teammate's hand and was called a penalty for San Pedro; which was promptly kicked wide of goal at the 60th minute.  But San Pedro got on the score card five minutes later, when Willie Bo was hopelessly beaten by a low shot from the edge of the eighteen by San Pedro's Abdon Sanchez was deflected off the body of a Yabra defender.  But that was all the scoring for the day, all goals being in the southern goal in front of the Yabra fans, as it ended 2-1.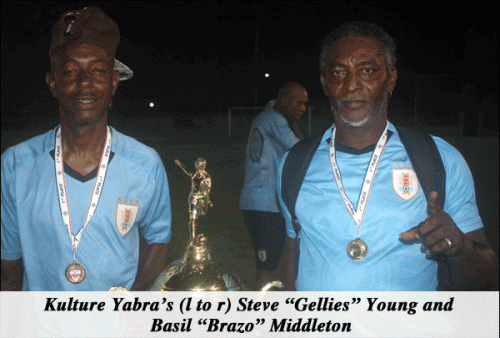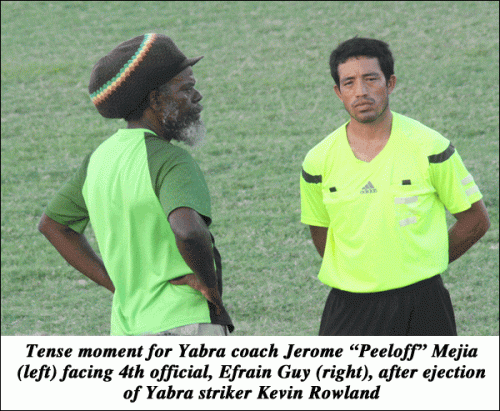 Kulture had also taken the Finals game 1 last week by a 3-2 score out at the Ambergris Stadium, for an aggregate 5-3 final result.
In the award ceremony following the game, FFB President Sergio Chuc presented team trophies and individual medals to champions, Kulture Yabra Veterans, and sub-champs, San Pedro Veterans.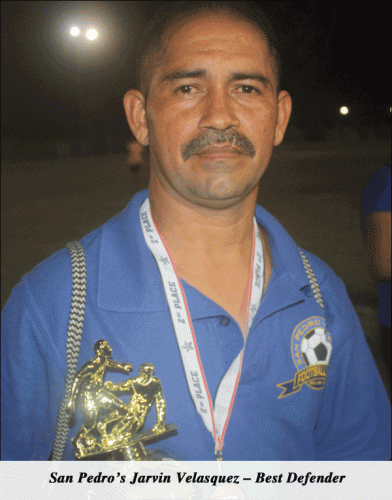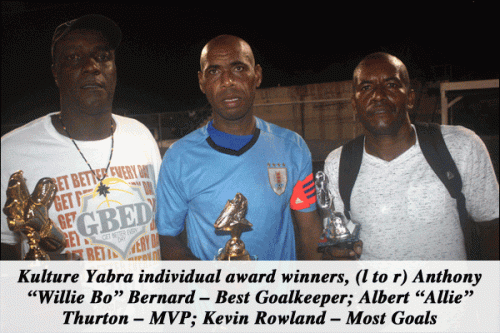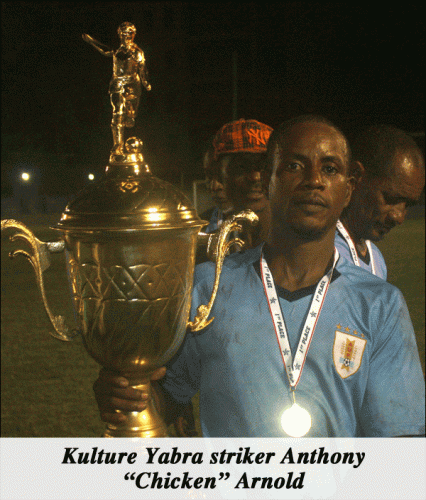 Individual award trophies were for:  Best Goalkeeper – Anthony "Willie Bo" Bernard (Kulture Yabra Veterans); Best Defender – Jarvin Velasquez (San Pedro Veterans); Best Midfielder – Robert Muschamp (Mango Creek Veterans); Most Goals – Kevin Rowland (Kulture Yabra Veterans); MVP – Albert "Allie" Thurton (Kulture Yabra Veterans).
Related Articles
Share
About Author
(0) Readers Comments