BELMOPAN, Mon. Oct. 7, 2019– The single round-robin is almost completed in the 9-team Belmopan 1st Division football tournament, after which the top 4 teams will go on to the playoffs. Four games were played over the weekend at the Isidoro Beaton Stadium, 2 each on Saturday and Sunday, October 5 and 6.
In the opener on Saturday, Roaring Creek United bombed Camalote Warriors, 6-1, with goals from Kenroy Williams (24'), Noah Moro (39' & 48') and Shemar Ingram (50' & 69'), along with an own goal by Camalote's Maynor Castellanos (51' OG); while Camalote's only goal was by Bertan Bermudez (57'). And in the nightcap, Galacticos CF edged Napoles FC, 4-3. Shaking the net for Galacticos were Bryan Cuellar (11' & 26'), Oscar Rosa (42') and Jarrel Smith (54'); while Napoles got a goal each from Tivi Ramos (14'), Saul Orellana (85') and Jahiem Caballero (92').
Game 1 on Sunday saw Valley United FC and Club Atletico playing to a 0-0 draw. And in game 2, FD Bandits bombed Las Flores FC, 7-1, with goals from Wilfredo Galvez (4'), Myrick Marshall (22' & 61'), Alden Coleman (33') and Brandon Peyrefitte (9', 69' & 74'); while Bryan Rodriguez (25') netted the lone goal for Las Flores.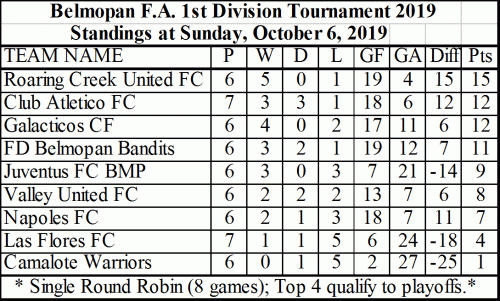 Upcoming weekend games at Isidoro Beaton Stadium:
Saturday, October 12
6:45 p.m. – Roaring Creek United vs Napoles FC
8:45 p.m. – FD Bandits vs Camalote Warriors
Sunday, October 13
4:00 p.m. – Valley United FC vs Galacticos CF
6:00 p.m. – Juventus FC vs Las Flores FC