BELIZE CITY, Thurs. Sept. 8, 2016–Assistant Commissioner of Police Edward Broaster, the commander of Belize Rural Eastern Division, confirmed to Amandala this evening that police are investigating the apparent alteration of a blood specimen that was taken from accident victim Dean Dawson.
On the night of Sunday, April 30, Dawson, a mechanic and resident of Gardenia, lost his life when he was knocked down by a Government of Belize Isuzu Rodeo that was being driven at the time by Dorian Pakeman, the Director of the Government Press Office.
Dorian Pakeman, who allegedly knocked Dawson down, on unpaid leave
---
Dawson, 45, was riding his bicycle toward Crooked Tree and Pakeman, 34, was on his way home to Ladyville from Orange Walk Town. The accident occurred between Miles 22 and 23 on the Philip Goldson Highway. Dawson died on impact and the government-issued Isuzu Rodeo was extensively damaged.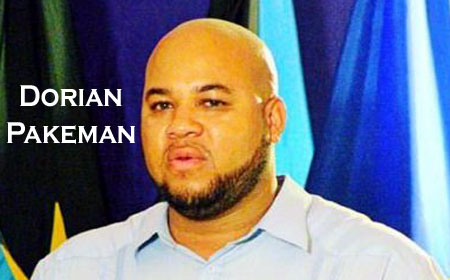 On Monday, September 5, ACP Broaster told the media that the file concerning the accident had been sent to the office of the Director of Public Prosecutions.
In a telephone interview on Monday night, Broaster confirmed that the blood specimen that police took from Dawson could not be used in the investigation because it had been tampered with.
Now why would anyone tamper with the blood specimen of an accident victim?
It appears that whoever tampered with Dawson's specimen wanted to show that he was under the influence of alcohol.
What the culprit did not know, however, is that to mix the blood with alcohol would render it useless in a lab test and that is what apparently happened.
Amandala asked Broaster whether or not the police had launched an investigation into the efforts to alter Dawson's specimen with a view to laying criminal charges, if possible.
Broaster replied, "That is being investigated."
Amandala spoke with Director of Public Prosecutions Cheryl-Lynn Vidal this evening, and she told us that she has not advised the police on laying any charges against Pakeman, and she will not do so until the questions that she has regarding the police's investigation are answered.
In the meantime, the Government Press Office issued a press release yesterday, Wednesday, September 7, on Pakeman's status.
The release said: "The Office of the Prime Minister announces that following a meeting today between the Prime Minister Rt. Hon. Dean Barrow and the Director of the Press Office Mr. Dorian Pakeman, Mr. Pakeman is being placed on immediate unpaid leave. The Office awaits the decision of the Director of Public Prosecutions on whether to bring charges of whatever nature against Mr. Pakeman arising out of all the circumstances surrounding the traffic incident in which he was involved."