BELIZE CITY, Mon. Oct. 12, 2020– The Director of Health Services, Dr. Marvin Manzanero, is no longer required by law to provide the names and addresses of persons infected with COVID-19 to the Minister of National Security. Statutory Instrument 134 of 2020, which laid out that requirement, was repealed, along with SI 126, on October 2.
As readers would recall, after the passing of SI 134, which was signed by the Minister of Health, Pablo Marin, rumors of the DHS' threat of resignation began to spread rapidly, and this reportedly triggered the National Oversight Committee (NOC) to revisit the legislation.
Section 22A of SI 134 mandated that the DHS surrender the list of positive cases to the Ministry of National Security, effectively compelling Dr. Manzanero to break away from his medical oath of patient-doctor confidentiality. This provision and the entirety of SI 134 were repealed in section 33 of SI 136.
The DHS has stated publicly, many times, that the disclosure of the names of infected persons would cause more harm than good to their COViD-19 response efforts. While his office did not release any official statement, the fact that the NOC was forced to withdraw the legislation, after the meeting with Dr. Manzanero, clearly indicates that the law did not sit well with him.
Attorney General Michael Peyrefitte, who is the Minister responsible for National Security, had justified the legislation by saying it would help security officials on the frontline to better manage cases and reduce their risk of exposure.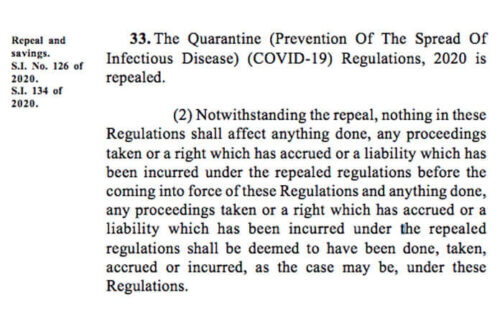 Section 33(2) of SI 136, however, says, "Notwithstanding the repeal, nothing in these regulations shall affect anything done, any proceedings taken or a right which has accrued or a liability which has been incurred under the repeal regulation before the coming into force of these regulations, and anything done, any proceeding taken or right which has accrued or a liability which has been incurred under the repealed regulation shall be deemed to have been done, taken, accrued, or incurred, as the case may be, under these regulations."
This section seems to suggest that the DHS has been placed in a position of retroactive responsibility — meaning that he could still be accountable for the provision of information regarding cases that were active during the period when SI 134 was in effect — prior to the repeal that was made possible by means of SI 136. It remains to be seen whether that is the case, or whether this section merely addresses the legitimacy of any actions taken by the Ministry of National Security during that period (when SI 134 was in effect) to obtain the list of names.