Headline
— 10 October 2018
— by Albert J. Ciego
The driver, Carlos Martinez, 53, escaped death and is charged
SAN JOSE SUCCOTZ, Cayo District, Mon. Oct. 8, 2018– Cindy, 26, and Jarinet Cowo, 16, sisters who resided in San Jose, Succotz, died after the RAV4 they were riding in from Benque Viejo Town to Succotz ran off the road and plunged into the Mopan River at about 4:00 yesterday morning between Miles 71 and 72 on the George Price Highway in San Jose Succotz. The vehicle went under, and the sisters became trapped and drowned inside.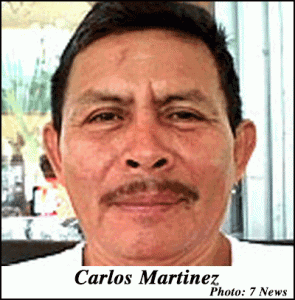 The driver, Carlos Martin Martinez, 53, a contractor of Belmopan, however, was able to escape from the vehicle. He said that he was able to kick out the front windshield and escape. He told police that he was not able to go back to help the sisters because the river eddies were strong, and he passed out on the river bank.
Martinez told police that when he revived at about 8:00 he went to the sisters' family to break the sad news. They immediately went to the scene, where they saw the submerged vehicle. Police were called and attempts began to recover the vehicle and the bodies of the girls.
The car was recovered about 10:00 Saturday morning. Martin has since been detained, pending investigation and charges.
During the regular police press briefing held this morning at the Raccoon Street, ACP Joseph Myvett, Head of Crimes Investigation, said that at about 8:00 Friday night Martinez went to the home of the two sisters in Succots to visit them, and at about 10:00 that night they went with him to a party in Benque Viejo del Carmen.
Martinez told police that while driving back to Succotz to drop off the sisters, he lost control of the vehicle and ran off the road into the river and the vehicle became submerged.
Myvett said that when the vehicle was recovered, the two sisters were found behind the back seat in the cargo space of the vehicle. They had drowned.
Myvett said that Martinez has been charged initially with driving without due care and attention, and driving with blood alcohol level above the legal limits. He is expected to face other charges pending investigation.
The village is mourning the great loss of the two sisters. Jarinet Cowo was unemployed, while her older sister, Cindy, worked as a waitress in Belmopan.
Police investigations continue.
Related Articles
Share
About Author
(0) Readers Comments