BELIZE CITY, Thurs. Oct. 29, 2015–Belize's exports this September were up by a remarkable 23.2% over the value of exports last September, with the traditional exports from the agriculture and fisheries sectors netting the country over $30 million—a third of the earnings coming from bananas, according to information just released by the Statistical Institute of Belize (SIB). Crude oil did not factor among the country's leading exports.
The total value of the country's domestic exports for September was $36 million, while last September saw exports netting the country $29.2 million in earnings.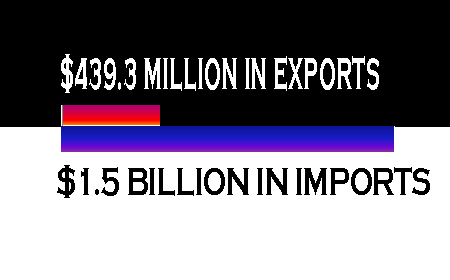 Although September was a bright spot in the year, the SIB reports that merchandise exports for the period January to September totaled $439.3 million, down 12.5 percent or $62.2 million from the same period last year.
The SIB said that, "Diminished sales for three of Belize's major exports, crude petroleum, marine products and citrus concentrate, led to the downturn over the nine-month period. However, banana and sugar grew steadily from January to September, with banana sales rising from $72 million in 2014 to $77 million in 2015 (roughly 7%) and sugar from $109 million to $113 million (roughly 3%)."
There were no sugar exports last September, but this September saw Belize exporting $8.3 million worth of sugar. Shipments of citrus and banana were also up; however, the value of marine exports fell.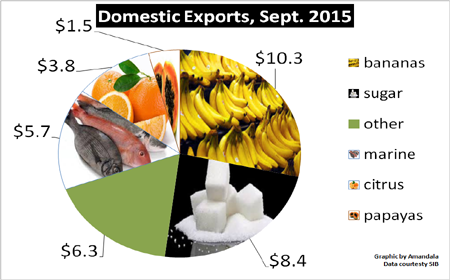 The SIB said that, "At $6 million in September 2015, marine exports were only a half of what was recorded in September 2014, owing largely to reduced farm shrimp sales."
The US continues to be one of the primary destinations for Belize's exports. According to the SIB, "In September, exports to the United States rose by $11 million, due to increased sales of sugar, molasses and orange concentrate to that country."
"On the other hand, exports to Mexico fell by $5 million, the result of lower farm shrimp sales," it added.

Meanwhile, imports for September 2015 were down marginally from $163.6 million last September to $162.1 million this September.
For the year to date, Belize's import bill is more than triple the country's export earnings.
"Merchandise imports for the nine months from January to October 2015 amounted to $1.5 billion, representing a 3.1 percent or $45.1 million increase over the same nine-month period last year," the SIB said.
Related Articles
Share
About Author
(0) Readers Comments