Headline
— 16 January 2016
— by Albert J. Ciego
BELIZE CITY, Thurs. Jan. 14, 2016–Bradley Paumen, 58, an American businessman who has been living in Franks Eddy Village, Cayo, has been remanded to the Belize Central Prison after police charged him in connection with a hit that was ordered against another businessman, Michael Modiri, a dual citizen of the US and Iran.
Police said that the charges against Paumen arose out of a complaint made on Friday, December 11, 2015, that Paumen had "taken out a hit" (hired persons to carry out a murder) on Modiri, a businessman of Belmopan with whom he has had a land dispute, and three other persons.
"An investigation was commenced and [it] led to the arrest of Paumen, who was arraigned at the San Ignacio Magistrate's Court on Friday, 8 January 2016," stated the police.
Paumen said he was not guilty, and has been remanded to the Belize Central Prison until his next court date – March 8, 2016.
Police said that their investigation is still ongoing and other persons will likely be charged with related offences.
In an interesting turn of events, the police's Gang Suppression Unit (GSU) found a Keltec brand pistol with serial number HWT62, loaded with six live .380 hollow point rounds of ammunition in an abandoned garage "in the George Street Gang turf" in a raid this week. The gun, which belongs to Paumen, was licensed to him back in 2011.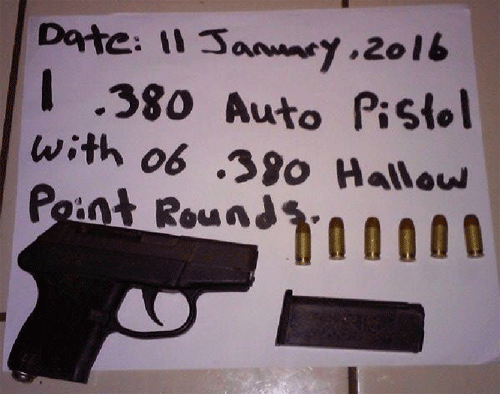 A press release issued on Tuesday, January 12, by the Gang Suppression Unit said, "Police firearm records revealed that this firearm is the property of Bradley Paumen of Belmopan.
Although the firearm was last licensed in 2011, it was never reported stolen. Paumen is currently on remand at [BelizeCentral Prison] on an abetment to murder charge. The firearm was found in the George Street Gang Turf and further investigations are being carried out to determine how the weapon reached that destination."
Paumen and Modiri had a dispute over land which the Government of Belize, which had entered into a partnership with Dark Night Cave Tubing Adventures Limited (owned by Bradley Paumen), had compulsorily acquired from Modiri to turn into an access road to facilitate Paumen's venture.
In a decision handed down last year by Supreme Court Justice Sonya Young, that action by Government was reversed and Modiri was awarded cost of court to the tune of $15,000.
Related Articles
Share
About Author
(0) Readers Comments