Sports
— 07 April 2018
— by Melanie Banner-Revers – Secretary, BNCA
BELIZE CITY, Wed. Apr. 4, 2018– Greetings once again from the Belize National Cricket Association (BNCA)!
There were no games played over the Easter weekend in the BNCA Sir Barry Bowen Harrison Parks Cricket Competition 2018, but we had some interesting matches on March 24 & 25.
In Rancho Delores,  Western Eagles had a big win over Easy Does It on Saturday, March 24. It was a great game to watch, very close, and was almost a tie breaker! But the Eagles came out victorious; congrats, Western Eagles! Big Up to Casper Smith of Western Eagles; he was the Man of the Match!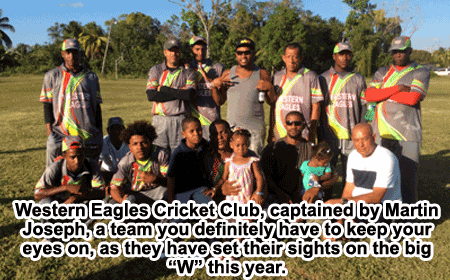 Then in Sandhill, we had Summer Fever going up against Old Youth, where Jermaine Baizer of Summer Fever was able to score 172 runs. This is very impressive batting; we send, our congrats to Mr. Baizer on a job well done! Orson Flowers also deserves a big-up, as he took 8 wickets for Summer Fever. 14-year-old Bernard Sutherland, Jr. of Summer Fever did his thing quite nicely and made 58 runs; great going, young man!
Here are the results of the matches played on Saturday, March 24:
Western Eagles won over Easy Does It with a score of 146 to 145 with one spare wicket. For Western Eagles, Casper Smith top scored with 30 runs, and Travis Stephenson took 3 wickets.
For Easy Does It, Kenroy Reynolds top scored with 59 runs, and Norman Revers and Kenroy Reynolds took 3 wickets each.
Summer Fever won over Old Youth with a score of 391 to 77. For Summer Fever, Jermaine Baizer top scored with 172 runs, and Orson Flowers took 8 wickets. For Old Youth, K. Morris top scored with 17 runs, and Wilbert Dawson and Wilfred Dawson took 3 wickets each.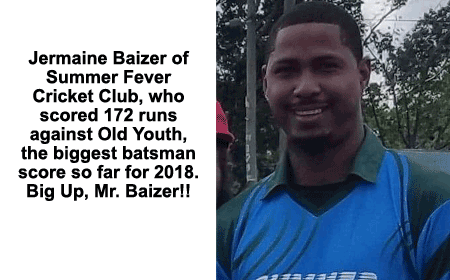 Wicked 11 won over Brilliant with of score of 106 to 104 with 6 spare wickets. For Wicked 11, Michael Flowers top scored with 25 runs, and Eddison Robinson and Keon Robinson took 3 wickets each. For Brilliant, Rudolph Dawson top scored with 24 runs, and R. Dawson took 4 wickets.
Police won over Rural Mix with a score of 188 to 143. For Police, Jermaine Smith top scored with 66 runs; and Brandon Lewis, Keenan Flowers and Jermaine Pook took 2 wickets each. For Rural Mix – (no stats available).
Excellence won over Big Deal with a score of 53 to 52 with 10 wickets to spare. For Excellence, Lebron Broaster top scored with 23 runs, and Jonathan Benjamin took 4 wickets.
For Big Deal, Windell Pook top scored with 15 runs.
Here are the results of the matches played on Sunday, March 25:
Suga Boys won over Berlan with a score of 130 to 129 with 4 wickets to spare. For Suga Boys, Lawrence Wade top scored with 54 runs, and Jamie Wade took 3 wickets. For Berlan, Lamont Russell top scored with 35 runs, and Shyam and Charles Stamp took 2 wickets each.
Excellence vs Western Eagles – not concluded.
Upcoming weekend schedule:
Saturday, April 7
Zone 1
Easy Does It vs Excellence in Lemonal
Summer Fever vs Police in Bermudian Landing
Big Deal vs Old Youths in Burrell Boom
Western Eagles vs Rural Mix in Isabella Bank
Zone 2
Suga Boys vs BDF at Price Barracks
Wicked 11 vs Sunrise
Sunday, April 8
Brilliant vs Berlan in Crooked Tree
Old Youth vs Police in Sandhill
Related Articles
Share
About Author
(0) Readers Comments