BELIZE CITY, Mon. Aug. 6, 2018– The Belize District Football Association (BDFA)/McClean Insurance Brokers Inter-Office Football Tournament 2018 continued last week at the MCC Grounds with games on Wednesday, Thursday and Friday nights, August 1-3.
In the opener on Wednesday night, Belize Bank got a goal each from Francisco Briceño and Quince Briceño, to gain the 2-1 victory over Belize City Council, whose only goal was by David McCaulay. And in the nightcap, it was MOE/Premium Wines, 1-nil, over BWS, courtesy of a goal by Naim Wilson.
Game 1 on Thursday night saw KHMN with the 2-1 win over Simon Quan. Kevin Najera and Asmin Moralez shook the net for KHMH, while Rodolfo Rodriguez scored for Simon Quan.  And in game 2, Ramada/brothers Habet dropped Tourist Village Tennants, 2-1, with a goal apiece from Tyrel Roches and Kareem Flowers, while Keeron Young scored for Tourist Village.
 In Friday night's opener, Francisco Briceño struck twice for Belize Bank, but BWS got a goal each from Alfred Garnett and Devaun Zuniga, and it ended deadlocked at 2-2 in regulation. And in the nightcap, Atlantic Insurance got a goal each from Kendale Esquiliano, Jehan Ahman and Faisal Ahmad, to record the 3-1 win over Belize City Council, whose only goal was by Daren Leal.
The playoffs are near, with the top 8 teams going on to the quarterfinals.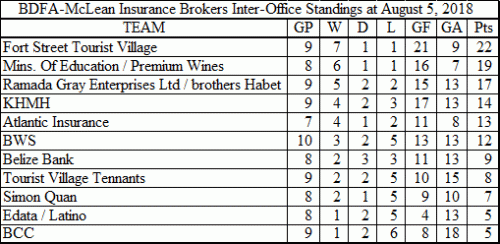 Upcoming regular season games:
Wednesday, August 8
7:00 p.m. – Latinos/ Data vs BCC
8:30 p.m. – Atlantic Insurance vs Simon Quan
Thursday, August 9
7:00 p.m. – Fort Street Tourist Village vs Ramada Gray Enterprises / brothers Habet
8:30 p.m. – KHMH vs BWS (game re-play)
Friday, August 10
7:00 p.m. – Atlantic Insurance vs Tourist Village Tennants
8:30 p.m. – Latinos / Data vs Belize Bank
Wednesday August 15
7:00 p.m. – Atlantic Insurance vs MOE/Sports Council
8:30 p.m. – KHMH vs Belize Bank
Related Articles
Share
About Author
(0) Readers Comments