BELIZE CITY, Mon. Oct. 9, 2017–The Smart 13 & Under Mundialito Closing Tournament 2017 kicked off its regular season on Saturday, October 7, with 6 games scheduled at the Marion Jones Stadium.
In game 1, RG City Boys United clipped Warriors FC, 1-nil, with a goal from Tom Moguel.
Game 2 was the same score, as Jahren Rivers gave Collet Strikers the 1-nil win over Sampson Academy.
In game 3, Hattieville River Side Boys dropped Carlton FC, 3-0, with 2 goals from Enoch Rhaburn and the other from Tayjion Ferguson.
Game 4 saw Brown Bombers crushing Heights FC, 4-1, with a goal apiece from Angel Montoya, Jayden White, Luis Sosa and Keyden Shaay; while Kenyon Smith scored for Heights.
BDF Ladyville Rising Stars drew, 1-1, with Reality Youth in very exciting game 5. Kenrich Gordan shook the net for Rising Stars, while Scorian Stuart hit the target for Reality Youth.
In the scheduled game 6, Corinthians won by default (3-0) over Ladyville Jaguars.
There are 6 teams each in Group A and Group B; and they will play a single round-robin, which is only 5 games each in regular season, after which the top 4 teams in each group go on to the quarterfinal playoffs.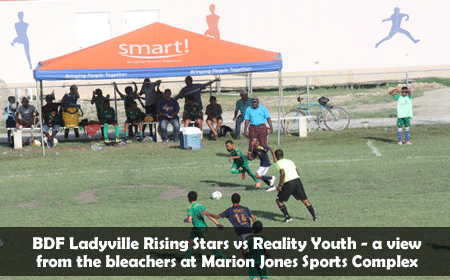 Upcoming Week 2 games:
Saturday, October 14
11:00 a.m. – Reality Youth vs Sampson Academy
11:50 a.m. – Carlton FC vs Corinthians
12:40 p.m. – Brown Bombers vs Collet Strikers
1:30 p.m. – Heights FC vs BDF Ladyville Rising Stars
2:20 p.m. – Hattieville River Side Boys vs Warriors FC
3:10 p.m. – RG City Boys United vs Ladyville Jaguars
(Information courtesy Stanley "Jordan" Reneau)
Related Articles
Share
About Author
(0) Readers Comments