Bandits bomb BDF, 4-nil, at MCC
BELIZE CITY, Mon. Mar. 27, 2017–Ten weeks of games have gone by in the Premier League of Belize (PLB) 2016-2017 Closing Season, and defending champions Belmopan Bandits SC are still undefeated, following their 4-nil drubbing of Belize Defence Force FC (BDF) yesterday afternoon at the MCC Grounds in Belize City. The Bandits got 2 goals in each half, from Elroy "Bibbs" Kuylen (13'), Nelson Aguero (26'), Jairo Rochez (82') and Jerome "Jarro" James (87').
With the loss, BDF drops to 4th place in the standings, because of the results in other Week 10 games yesterday. Meanwhile, according to early reports, at the Norman Broaster Stadium, home standing Police United prevailed, 2-0, over Placencia Assassins; at the Carl Ramos Stadium, Verdes grabbed the 1-nil win over home squad Wagiya, on a goal by Marlon Molina (26'); and at the Victor Sanchez Union Field in Punta Gorda, both Wilmer Garcia of P.G.'s Freedom Fighters and Ashton Lewis of visiting FC Belize scored in the 56th minute of their game, which ended in a 1-1 stalemate.
FC Belize will be returning to the MCC this Sunday to host the Placencia Assassins. It will be the last home game in this Closing Season for FC Belize, as they and the Assassins are battling to keep their playoff hopes alive. Four weeks of games remain in the Closing Season. (See standings below.)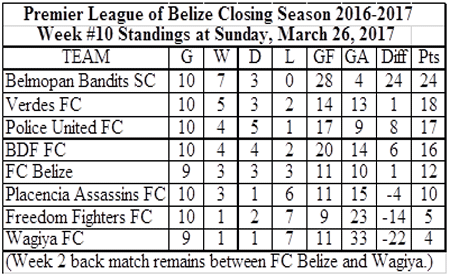 Week 11 games:
Sunday, April 2
4:00 p.m. – Verdes FC vs Belmopan Bandits SC – Norman Broaster Stadium
4:00 p.m. – FC Belize vs Placencia Assassins FC – MCC Grounds
4:00 p.m. – Freedom Fighters FC vs BDF FC – Victor Sanchez Union Field
4:00 p.m. – Wagiya FC vs Police United FC – Carl Ramos Stadium
Related Articles
Share
About Author
(0) Readers Comments