General
— 08 September 2018
— by Albert J. Ciego
DANGRIGA, Stann Creek District, Wed. Sept. 5, 2018– At about 11:30 last Saturday night, the decomposing body of Sherris Stringham, 67, a retired American from the state of Kansas, USA, who had been living in Hopkins for almost a year, was found under a bridge in Steadfast Community at Mile 18 on the Stann Creek Valley Road, 7 days after she had been reported missing from her home in Hopkins village.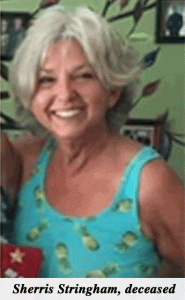 An onsite autopsy on the body certified that her death was caused by traumatic asphyxia as a result of multiple rib and sternum punctures to the chest.
The investigation into Stringham's brutal murder led to Anthony and Wilhelm Nunez, both 18, who are relatives, and a minor, 16 years old, all teenagers of Hopkins, Stann Creek District.
During the weekly police press brief held at the Raccoon Street police Station, ACP Joseph Myvette said that their investigation led to four teenagers, three of whom were taken into custody, but they are yet to arrest the fourth person.
The three teenagers cooperated and led police to the area where the body was found, and they were all arrested. Yesterday, the three teenagers were taken to the Dangriga Magistrate's Court, where the charge of murder was read to them.
No plea was taken and Anthony and Wilhelm Nunez were remanded until October 7, while the minor, 16, was remanded to the Wagner Juvenile Facility at the Kolbe Foundation-managed Belize Central Prison.
 Residents of the village believe that on Saturday night, August 25, the boys went to burglarize Stringham's home, but she was at home and they attacked her, beating her unconscious. They then ransacked her house and stole cash from her purse, leaving the empty purse on the table.
They then stole the keys to her vehicle, put her in her vehicle and drove away.
While crossing the bridge at Mile 18 in Steadfast on the Valley Road, police believe that they threw her out of the vehicle and she landed on the rocks below.
The vehicle was found on Thursday in the bushes near the bypass in Orange Walk Town, about 180 miles from Stringham's house in Hopkins.
The Hopkins village chairman, Ted MacKoy, and residents of the village strongly condemn the senseless murder.
The villagers will conduct a memorial service for Stringham on Thursday in the village. Her friends said that she embraced Hopkins, and Hopkins embraced her.
On many occasions while driving her vehicle, she would stop, come out and embrace people and talk with them, and she was well-loved in the village, they said.
Related Articles
Share
About Author
(0) Readers Comments