Fire destroyed 5 houses and partially destroyed 3 others
SAN PEDRO, Ambergris Caye, Mon. Aug. 6, 2018– A massive fire on Conch Shell Street in the Boca Del Rio area of San Pedro destroyed 5 houses and left 87 persons homeless. Luckily, no one was hurt.
The fire occurred at about 1:30 Saturday morning. The local fire service was called, but within a minute after the firemen arrived, they exhausted the water stored by the fire truck, which has a 300-gallon capacity. They then left to find another water source.
While they were gone, the fire spread. After their return, with the help of the residents of the area, who formed a bucket brigade, the firemen put out the fire.
The San Pedro Fire Service has begun an investigation into the cause of the fire, and the Crimes Investigation Branch in San Pedro is working on compiling the list of the victims of the blaze, which will be released shortly, we were told.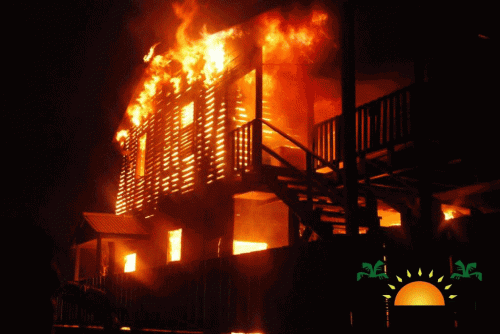 Amandala went to the scene of the devastation today, Monday, and some of the victims themselves were so overcome with emotion after their terrific losses that many did not want to talk at all.
A few spoke with Amandala, however. Perla Vasquez, whose house was partially destroyed but remained standing, told us that at about 1:00 Saturday morning, they were all sleeping when she was awakened by heat and smoke.
Vasquez looked outside to see what was happening, and observed that her neighbor's house was engulfed in flames.
She quickly woke up her household and shortly after, the front portion of her house began to burn.
A man whom Vasquez refers to as "Mr. Victor" brought a pump and doused her house, which withstood the heat.
However, her refrigerator and other household appliances were destroyed.
Vasquez told us that this is the second time that this particular area in San Pedrito was damaged by fire. Years ago, a fire destroyed 4 houses, she said. Fortunately, no one was killed.
A resident told us that there is a problem with housing on the island, because many house owners turn their houses into apartments that are constructed with plywood, which can be hazardous, since plywood burns quickly.
A taxi driver suggested that the cause of the fires could be acts of arson in retaliation for high rent prices (about $125 weekly) for these small apartments.
Edgar, another victim, who did not want to tell us his surname, said that he was coming home when he was told of the fire. At the time the fire started, people were sleeping, and when they were awakened by the heat, they rushed outside.
Unfortunately, Edgar did not arrive in time to save any of his belongings. On his arrival, he saw that people were trying to put out the fire, and he joined in.
An official from the San Pedro Fire Service said that they have two fire trucks, but one is not working due to mechanical difficulties.
As previously mentioned, their fire truck has a capacity of 300 gallons, and the truck pumps out 1,200 gallons per minute, which indicates a striking limitation in the effectiveness of the trucks in putting out a fire – in 15 seconds, the water is finished.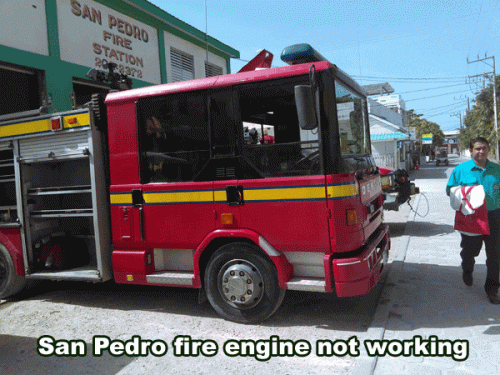 After the water is gone in less than a minute, the truck must then leave to get some more water, which wastes critical time.
It was pointed out to us that after the last fire in San Pedro, just less than two months ago, on June 12, which claimed the lives of three persons, an official working for the area representative, Hon. Manuel Heredia, promised that a pump was to be procured for the San Pedro Fire Service.
However, that promise has yet to be fulfilled.
Also, Minister "Clear the Land" Castro said that they were waiting for a truck that was to be donated to the San Pedro Fire Service, which has not yet happened.
Fire Chief Ted Smith has been pleading for new firefighting equipment, trucks and water bowsers for each fire station for some time, but his pleas continue to fall on deaf Ministerial ears.
Firefighters told us that they need a truck with a water bowser that has a capacity of at least 5,000 gallons in order to improve the department's ability to fight fires effectively.
We learned that Belize is the only country in the region that does not have a supporting water truck, which is a basic necessity, and furthermore, the department needs new trucks and equipment because what they have right now were obtained second-hand about 16 years ago.
As a result, the outdated equipment is prone to mechanical problems. The upgrade would cost a little more than $6 million.
There are presently three fire trucks at the National Headquarters on Freetown Road, Belize City, and these carry a combined capacity of 1,700 gallons of water. One of the trucks, which has a 700-gallon tank, is equipped with a high-powered pump capable of discharging 1,200 gallons at 150 PSI per minute.
In less than a minute, this truck exhausts its water supply and the firefighters have to go looking for a water source.
The owners of the houses destroyed by this latest fire in San Pedro and the estimated damage are unknown at this time.
The fire was brought under control at about 4:26 a.m. by firefighters, assisted by civilians.