BELIZE CITY, Thurs. Oct. 5, 2017–We promised to share some of our discussion with visiting Belizean from Los Angeles, USA, Charles Hogan, who has dedicated himself over the past thirty-five years to organizing and managing a team of Belizean players, the L.A. Warriors, to participate in the L.A. Municipal Competition, as well as regular annual hosting of, or visits to, other Belizean teams in Chicago and New York. But we thought it was important to give some background first.
As can be seen from the accompanying picture of the 1980 L.A. Warriors provided by Hogan, there was an interesting mix of veterans and younger players on these teams. We can identify a few stars of the 1970s MCC on this picture, namely goalie, the late Rupert "Canalete" Anderson (lying down in front) and Rudolph "Peru" Olivera (4th from left in back row) of the 1976-77 White Label champions of Belize City; and "Mundo" Myvett (2nd from left in front row) of 1971 Spurs fame. Charles Hogan, who never played 1st Division football in Belize before migrating to the States in 1973, is kneeling in the front row, second from right.
Playing and managing the L.A. Warriors became too much of a burden, according to Hogan, and around 1983 he decided to cut short his playing days to dedicate himself to coaching and managing the team, a task he took upon himself and has performed consistently for over three decades, all for the love of the game.
After all these years, and with so much selfless contribution to the sport and the exchanges among the different Belizean communities in the U.S., we thought that Hogan had earned the right to remind those younger folks who perhaps didn't know, that he too had a few moments of football glory, even if he is not counted among the all-time greats of the sport, not having a 1st Division or semipro career in Belize. "Cheezy" Hulse, who left Belize at the top of his game with Spurs, and went on to play professional ball with Macabees in L.A. in the mid-1970s, selected Hogan to the starting line-up of a Belizean L.A. selection, according to Hogan; so it seems more than likely that, had he stayed in Belize, Hogan could have held his own in our local 1st Division at the time.
But we were blown away by Hogan's amazing recollection of details and personalities in a sensational primary school football finals series in Dangriga around 1966. It is a tale worth recording, if only for its historical and cultural value; and it will be our pleasure to share Hogan's story of what could be considered his fourteen-year-old moment of football glory.
Life circumstances diverted the young Hogan away from football competition after primary school, and the seventeen and a half-year-old Police recruit was detailed "out-district" in situations not conducive to football playing. And a couple years later, he had migrated to the U.S.
Primary school football was a big thing in Belize City in the old colonial days, and it was apparently big in Stann Creek Town also. The rivalries were great among primary schools in Belize City, and the famous Ebenezer Primary boys of the mid 1950s went on to become Dunlop, a team that won the Junior competition undefeated, and went on to challenge the reigning Senior champion, Diamond A. Dunlop went on to become the 1958-59 Belize City Senior Champions.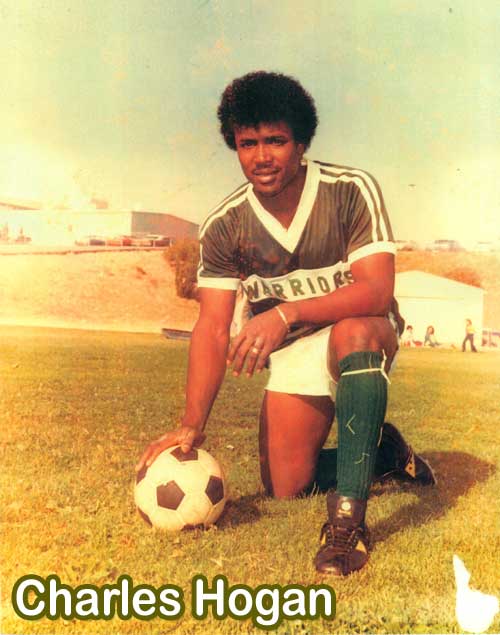 Hogan tells a story about a primary school football saga that occurs about a decade later, around 1966, and includes the names of some youngsters that went on a few years later to become big stars of the game in the Belize City senior competition, which at that time included teams from other districts, as well as individual players from the districts being recruited to play on Belize City teams. The melting pot that constituted that period of primary school football in the town that was later called Dangriga, also produced a crop of football talent that later dominated football in the inter-district competition in the 1970s; but Hogan was not among them, having already migrated to the US. Years later, as veterans, some of their paths would cross again with Hogan in L.A.
In our next issue, we will travel back to 1966, and begin Hogan's story of primary school football drama in Dangriga and Belize City.