BELIZE CITY, Wed. June 3, 2020– The Belize City Council's Sanitation Department will now be referred to as the Belize City Council Operations Support Unit. The more than two hundred workers in the unit will also now be wearing tailored uniforms that were designed to give a professional image to the workers as part of a rebranding exercise that is aimed at conferring to the workers an appropriate degree of respect and making them identifiable as part of the City Council team. The uniforms consist of blue coveralls for the men and blue trousers with blue jackets for the women. The uniforms are made locally. The name change of the unit was made this morning during a brief ceremony at City Hall on Regent Street.
In his brief comments, Mayor Bernard Wagner said that the purpose of the move is to uplift the sanitation unit and to highlight the importance of the service they provide. "They want to have that professional image", the Mayor said.
Mayor Wagner notes that the workers have been issued gloves, boots and hand sanitizer for their operation. He also mentioned that this move to improve the sanitation unit has been in the works, but COVID-19 had put a halt to it, but it is now back on track. "These frontline workers are being taken care of, for their hard work and dedication. This City Council puts people first, and this can now be seen", the Mayor said.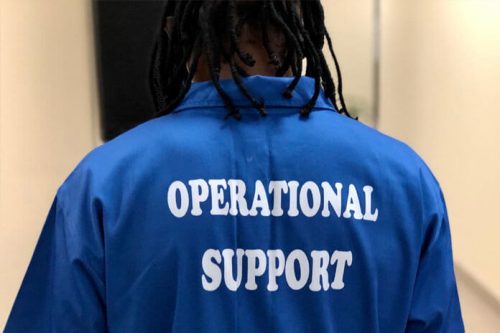 At the ceremony, three of the workers displayed the new uniforms — two men and one woman. Shelmadine Lynch, who displayed her new uniform, said that she feels like, and looks like someone who is working in an office, and not like a sanitation worker, and she thanked the Mayor for the upgrade.
Feature photo: CitCo Operational Support workers