BELIZE CITY, Thurs. July 16, 2020– We're glad for the news that some of our legendary football stars are in a good state of recovery, following some serious health issues.
One of Belize's most prolific strikers on record, Arthur "Goatman" Leslie, who was the hottest striker in the 1980s, underwent open heart surgery in New Jersey in February, and returned home to his residence in Sandhill, Belize District, just prior to the Covid-19 lockdown in March of this year. This morning, Turo reassured us by phone that he is following the recovery plan formulated by his doctor, and is thankful for the operation that effectively saved his life. "I feel like I have a new life," Turo had told us earlier, and we look forward to a review of his spectacular football career in Belize, from his junior days with New Frontier, then senior with Belprint, Milpros, Coke-Milpros, Duurly's, and back to Milpros.
Gilroy "Coro" Usher, a teammate of Turo's for most of their careers, earned the nickname "The General" for his dominating skill and attacking tenacity in midfield, where he was effectively another forward for his young team, Belprint, that often proved unstoppable against the top teams of the day in the mid to latter 1970s. Like the legendary Maurice "Reesho" Jones, Coro made frequent trips to the USA during the 1980s, but when he was in town, Milpros, and then Coke-Milpros became a much more formidable force in Belize football. Last week, Coro called from his hospital bed in New Jersey to inform us that he had been in hospital for two weeks; but expected to be released shortly after receiving treatment for a cancerous spot on his lung. Smoking is definitely a thing of the past for Coro, who marveled at now being short of breath after climbing a flight of stairs, when he once routinely ran a hard-paced "ninety" on the MCC with no difficulty. We wish our brother and former teammate a successful recovery, and look forward to sharing highlights of his outstanding football career in Belize.
A legend from an earlier era, we had featured a story on Wilfred "Palma" Davis, a multi-talented Belizean athlete, who first rose to fame with the legendary Dunlop football champions of 1958-59 in Belize City. In our Amandala story, "Palma's weak spot," of June 17, 2020, we had mentioned reports that Palma was recovering from a heart operation, but we were having difficulty contacting him by the phone number we had.
In an email we received yesterday, Belizean/American Wellington Ramos referred to that article in his effort to make contact with Palma; and today, Ramos said that he was successful in getting to speak with Palma, and it is good to know that he is doing okay.
Said Wellington: "I just got off the phone with Mr. Palmer Davis one of Belize's football legends. He said you can keep his number on file and feel free to talk to him about any matter related to football. You can also give it to his football friends who are inquiring about him. The number is (501) 398-9863."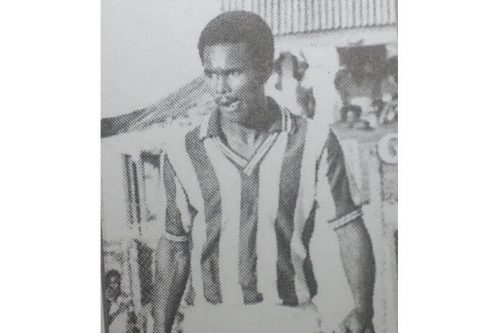 A very intriguing aspect to Wellington's follow-up email today, however, seems to confirm what another eminent sporting source had reportedly suggested sometime last year, according to his daughter, Nicole. Among Belize old timers, the name of "Palma" Davis spells sports royalty – the man was an accomplished star talent in football, basketball and baseball, when it was played here in the 1960s.
Palma will have the pleasure of making that announcement himself when he decides, but Mr. Ramos' email today says a mouthful, and his attachment trove of clippings about NBA star A.D. cannot be ignored.
Said Ramos about his phone conversation with Palma: "He revealed some more good news to me yesterday that made me proud to be a Belizean. See the attached news and you guys can work with him to setup an interview…" (Perhaps, brother Bilal Morris is better placed to accomplish that at this time, as we are still unsuccessful with the phone number given.)
As an aside, Ramos also included a message to Stann Creek football legend: "Roddy Leslie – Palmer Davis wants to speak to you. Will call you later."
This little Belize!!