BELIZE CITY, Mon. Sept. 17, 2018– It looks like a two-horse race at Week 6 of the Premier League of Belize (PLB) 2018-2019 Opening Season, as defending champions Belmopan Bandits SC are still undefeated, but after their contested draw with San Pedro Pirates over the weekend, arch-rivals Verdes FC have taken over the standings lead  (See standings below).
There were two Saturday night clashes and two Sunday afternoon encounters in the PLB Week 6 schedule.
Out at the Ambergris Stadium on Saturday night, it ended scoreless, 0-0, between home standing San Pedro Pirates FC and Belmopan Bandits SC, who have reportedly lodged a protest on the game.  Meanwhile, down south at the M.A. Stadium in Independence Village, visiting Wagiya FC jumped to an early 1-nil lead on a goal by Highking Roberts; but the home squad, Altitude Assassins FC rebounded with second half goals from Richard Arnold (50') and Ronaldo Vergara (69') to secure the 2-1 victory.  Wagiya have been winless on the road, but perfect at home so far in the competition.
In a clash of the security forces on Sunday afternoon at the Isidoro Beaton Stadium, it was the visiting BDF FC coming away with the 3-1 win over Police United FC.  Police captain Andres "J.R." Makin (47') put his team in front, but BDF responded with goals from captain, Osmar Duran (58'), Justin Trapp (74') and Darron Lambey (92').  Meanwhile, further west at the Santa Elena Sporting Complex, winless Freedom Fighters FC from Punta Gorda "came a long way to die," as they were bombed 5-nil by new standings leader Verdes FC, who got a goal each from Darwin Bermudez (30'), Roberto de Silva (60'), Elroy "Bibbs" Kuylen (70'), Nahjib Guerra (74') and Elroy Smith (77').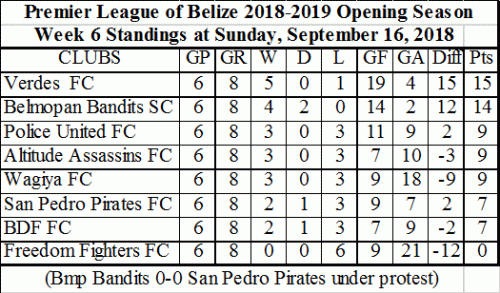 Upcoming Week 7 games:
Saturday, September 22
8:00 p.m. – Belmopan Bandits SC vs Altitude Assassins FC – Isidoro Beaton Stadium
Sunday, September 23
4:00 p.m. – Wagiya FC vs San Pedro Pirates FC – Carl Ramos Statium
4:00 p.m. – Verdes FC vs Police United FC – Santa Elena Sporting Complex
4:00 p.m. – BDF FC vs Freedom Fighters FC – MCC Grounds
Related Articles
Share
About Author
(0) Readers Comments