Features
— 09 September 2015
— by Johnelle McKenzie
BELIZE CITY, Sat. Sept. 5, 2015–This past weekend, the September festivities, continued as Belizeans made their way to the ITVET compound where the Belize Chamber of Commerce held its 19th annual Expo Belize Marketplace, which was first held in 1996 as a consumer trade show.
       It is estimated that a little less than 17,000 people attended the event, which was held on Saturday and Sunday from 8 a.m. to 5 p.m., with an entrance fee of $3.00 being charged for children and $5.00 for adults.
        The opening ceremony for the show was held at 11:00 a.m. on Saturday, and featured US Ambassador Carlos R. Moreno as the guest speaker. Moreno, in his speech, addressed trading between the USA and Belize and touched briefly on the banking situation in Belize.
          Prizes were also awarded to the winners of the September Celebrations, Art Competition. Justin Chen, winner of the junior category, received $500, while Evander Vasquez, winner of the senior category, received $1,000 – courtesy of the Western Union Back to School program.
       Some businesses which participated in the expo included Karl H. Menzies Ltd., Bowen & Bowen Ltd., Belize Telemedia Limited, Grace Kennedy Belize, Westrac, Cellular World, Unicomer, Smart, Go Graphic, Go Wireless, Tropic Air, Dolphin Productions and Quality Poultry.    According to a press release from the Belize Chamber of Commerce, new participants included the Merida Chamber of Commerce, the Auto Pavilion, Optical Services, Ready Call Center and "Micro Businesses promoting Handicraft, Agro-Products and Environmental Literature".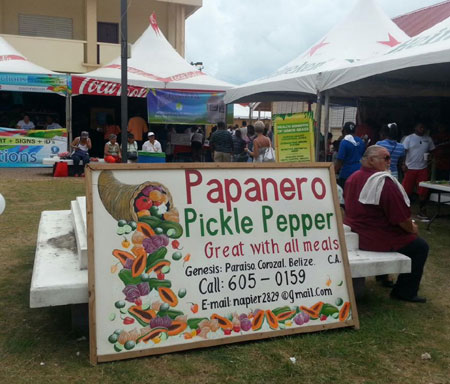 There were a total of 21 gate prizes that the Belize Chamber of Commerce gave away with the assistance of its sponsors, which included Quality Poultry, Grace Kennedy Belize Ltd, BTL Yellow Pages, Bowen & Bowen, Karl H. Menzies, Brothers Habet, Image Pro, and Western Union.
    Danette Burns, Operations Supervisor of the Western Union, said that the main objective of the Expo is to bring together different companies in one place where they can showcase their services or their products. Also, it brings exposure to unknown companies and makes the public aware of what they have to offer.
(Photos by Amparo Masson)
Related Articles
Share
About Author
(0) Readers Comments