MELCHOR DE MENCOS, Guatemala, Thurs. July 19, 2018– A police raid at a house in Melchor de Mencos resulted in the discovery of two Belizeans with ammunition, drugs, and thousands of dollars in different denominations.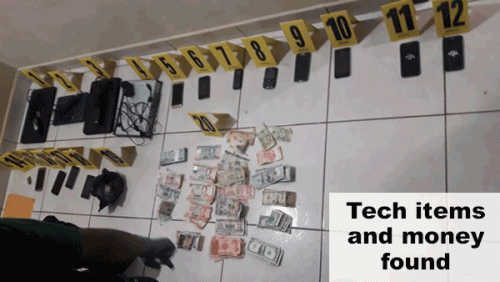 Francisco Javier de la Ho Duarte, 33, a businessman from Benque Viejo Del Carmen, Cayo District, and Aolibama Mengibar, 43, were found with two AK-47 rifles, 75 rounds of ammunition, and more than 14,000 quetzals. Other denominations found were over 400 Honduran lempiras, 100 Mexican pesos, 20 Peruvian soles, over 1,400 US dollars, and over $2,000 Belizean dollars. Tech equipment such as computers and cell phones were also found, along with 2 ounces of marijuana.
The house where the items were found is owned by de la Ho Duarte, and Belize police say they are investigating in coordination with the Guatemalan officials, since de la Ho Duarte has a home in Belize as well.
Police also say they know that de la Ho Duarte has a licensed firearm in Belize, but they have yet to search his home. The investigation is still ongoing.