Headline
— 10 February 2018
— by Albert J. Ciego
Perez's body was found in a shallow grave in Harmonyville 9 days after he went missing
HARMONYVILLE, Cayo District, Thurs. Feb. 8, 2018– The search for Israel "Prince" Perez, 27, of St. Matthews, Cayo District, who had been missing since Sunday, January 28, eleven days ago, came to a tragic conclusion at about 6:00 Tuesday morning in Harmonyville, and two Cotton Tree men will be arraigned in court for his murder.
Perez's body was found in an advanced state of decomposition in a shallow grave (a dugout). There were multiple stab wounds in his chest and upper body.
His hands and feet were tied, and his head was covered with a plastic bag. The body was partially exposed and a stench of decomposition was heavy in the air.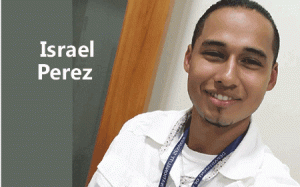 We were informed by the deceased's brother, Orlando Perez, that the body was found by a friend of the family who lives in Harmonyville, who went to look for the missing man after seeing his car being driven on the road several times over the weekend by persons other than Israel. (Harmonyville is between the villages of Cotton Tree and St. Matthews.)
At the time he saw the vehicle being driven past his house, the family friend did not know that Israel Perez was missing, until he heard it on the news. After the newscast, he told his wife that something was wrong and he believed that Perez was dead, and that he was going to find his body.
On Tuesday morning, he and his son went out to find Perez, and a stench led him to the shallow grave (dugout) about 200 yards from the George Price Highway, where he saw the partially exposed body. He immediately contacted Perez's family and the police
Perez's elder brother identified the body as being that of Israel.
In an interview with us, Orlando Perez said that when they arrived on the scene, police were already there, and the area was already cordoned off. An onsite post-mortem exam was carried out, after which the body was taken to Cotton Tree for immediate burial due to the state of decomposition it was in.
He believes that his brother was held captive somewhere before he was murdered.
Perez told us that the last time he saw his brother was Saturday, January 27, which was one day before he had been reported missing. He recounted that his brother had visited his barbershop in Belmopan, as he would normally do before he went home. He left at about 9 p.m. after declining an invitation to go to a nightclub.
According to Orlando Perez, on Monday, January 29, his brother texted him and told him he was in San Pedro Town for a meeting and would remain there until the end of the week. After that, however, Perez disappeared.
Israel Perez's common-law wife said that she saw him Friday morning, January 26, when he left home to go to work at the Immigration Department, where he had worked as a clerk for the last two years.
His colleagues said that he was friendly and jovial and easy to get along with, and Diana Locke, the Director of Immigration, said that he was well-liked and will be missed.
Since the discovery of Perez's body, police have made an arrest in connection with the incident which led to his death. Police said that yesterday morning, Wednesday, Cruz Castillo, 34, of Cotton Tree, was arrested and charged with handling stolen goods after police went to his house in the village and found some of Perez's belongings in the house, and also, Perez's vehicle was parked in his yard.
Castillo was taken to the Belmopan Magistrate's Court on the charge, and was remanded until Friday, while police continue the investigation into Perez's murder.
This morning during a police press brief held at the Racoon Street Police Station, ACP Joseph Myvette, Head of National Crimes Investigation, said that another Cotton Tree man, Stanley Herrera 22, has been arrested, and that he, along with Castillo, was charged for Perez's murder.
The two men are expected to be arraigned on the capital offense tomorrow, Friday, at the Belmopan Magistrate's Court.
ACP Myvette said that the motive for the murder is not yet known, but the two men were known to Perez. Myvette said that it is also not yet known when Perez was murdered, and where.
Related Articles
Share
About Author
(0) Readers Comments