Headline
— 27 January 2015
— by Kareem Clarke
PRICE BARRACKS, Fri. Jan. 23, 2015–Two thousand six hundred and eighty (2,680) live rounds of ammunition, used for M16 and M4 assault rifles, have gone missing from a holding bay at the Belize Defence Force (BDF)'s Lord's Bank property in Ladyville, and are presumably now in the hands of those within the criminal underworld, an army official said today.
The ammunition – which is the property of members of the US Army who are on training in Belize, and which reportedly has a street value of US$10,000 – was stolen, allegedly by insiders, during the last three weeks, sometime between December 7, 2014, and 1:30 a.m. yesterday when a routine security check found that there had been a breach at one of the holding bays which is used to store ammunition and explosives on the compound.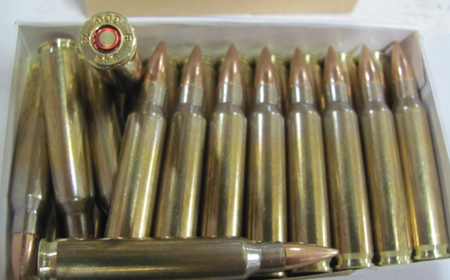 Inside job? Armed guards patrol, but this is the BDF's fourth break-in, and so far, no one has been convicted for the thefts

BDF Chief of Staff, Lieutenant Colonel Raymond Shepherd, informed the media that the area from which the ammunition was stolen is not a place where they are usually kept, and told reporters what they know so far about the alarming incident – the fourth in a series of burglaries that has taken place at the army base in the past 11 years.
He said, "One of our security patrols discovered the breach of one of our holding cells for ammunition. We conducted a check, and we discovered that a total of (1,680) 5.56, and (1,000) 7.62 ammunition were removed from that holding bay. These ammunition were in storage for our American counterparts who are here doing some training, so that the type of shelter or bay that they were in, is not the type that we would normally keep that type of ammunition."
"As part of our primary investigation, we have to determine who authorized the ammunition to be stored where it was stored. All those who were on duty at that station between the period of December 7 until now will be considered suspects, so we are going to investigate each and every one of them, and apart from that, we have systems and procedures in place to ensure that this type of incident does not occur. There was a series of systematic breaches along the way, so everyone who is held responsible will be held accountable to the full extent of the law", Shepherd declared.
The ammunition was kept separately from that used by the BDF, in a low-security bay, basically just to shelter it from the elements, but the disturbing development leaves many to question the army's ability to guard its own guns and ammunition.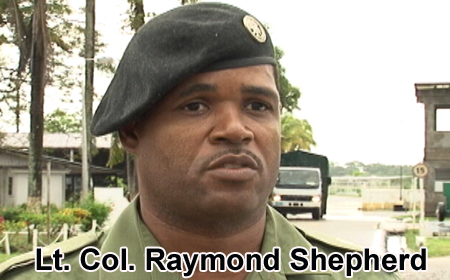 The embarrassing incident has undoubtedly given the BDF – which will celebrate its 37th anniversary at the end of this month – an un-needed black eye, especially when considering the other incidents of that nature that have taken place on the compound in the past few years, and Lt. Col. Shepherd spoke about additional preventative measures that will be put in place to prevent a reoccurrence and regain the confidence of the public.
"The first step is to put measures in place to re-establish the systems that we have that were breached. There are some things that we can do immediately, and some things that have already been done, so we'll put those back in place, then we'll do a check of what further we can do to prevent this type of incident from reoccurring. Our survival as an organization itself depends on the trust and confidence we get from the Belizean people that we serve, and when things like this happen, it definitely erodes the trust and confidence, so that is one thing that we will definitely have to build back", Lt. Col. Shepherd mentioned as he outlined what is being done to remedy the situation.
The ammunition, worth US$10,000, which is the property of the military's US counterparts, is used for M16 and M4 assault rifles

While he alluded that the theft is more than likely the result of collusion between insiders, Shepherd conceded that they are at a loss as to exactly when it might have happened, and the BDF high command suspects that there are several people involved.
"We do have 24-hour security presence at the storage facility, and it is for this reason that we believe up to 95% that it is an inside job. Where the ammunition was stored is not the building that we normally store that type of ammunition; it was basically a storage for shelter from the elements, so they were able to breach one of the doors first, and then use a 2×4 to breach one of the internal walls to get to where the ammunition was," he noted.
"We don't have enough information at this point to determine more or less when it occurred. The last time we did a check for 100% accountability was December 7, but we have a series of systems and policies in place to prevent these types of incidents, and in this case, each one of those systems and policies was breached systematically. We believe that there are several people involved, either by their act, or by their omission. In terms of the security procedures we have in place there, we have armed guards that conduct patrols on a routine basis, at a minimum of 30-minute intervals", Shepherd explained.
Of note is that investigators discovered that the interior and exterior perimeter chain link fence at the rear of the compound was cut, but they surmise that that was done only as a decoy, since it is believed that the crooks simply walked out with the ammunition – which was kept in metal containers – through the gate which is supposed to be guarded by military security personnel around the clock.
A similar situation occurred in October 2011 when 42 guns went missing from the Price Barracks, and when Colonel Shepherd was asked if heads are also expected to roll this time, he said that those who are found to be culpable will be penalized to the full extent of the law.
"We're concerned because as an organization, our legitimacy is based on the trust and confidence we have from the Belizean people, and if one ammunition goes missing, then that is cause for concern because it's a security risk for not only the BDF, but the nation on a whole. We will conduct an extensive investigation, and all those people who are responsible for the breaches along the way will be dealt with to the full extent of the law", he emphasized.
The police have also been called in to investigate, but Shepherd is not optimistic that the ammunition will be recovered, since usually, when such thefts occur, the items end up in the hands of those in the underworld, which is what military officials suspect may have occurred.
As we had noted earlier, 42 firearms – including (22) M-16 A-1 rifles, (2) M4 commando rifles, (11) 9 millimeter Beretta pistols, and (7) M4 carbines went missing from the Price Barracks compound in October 2011, but while 24 of those firearms were useless, the brand new seven M4 Carbines and eleven 9mm pistols were in working condition and were never recovered, and similar to this latest incident, no one can even say with certainty exactly when they were stolen.
At that time, the weapons were removed from the bulk weapons store building, which is at the rear of the BDF headquarters and has five rooms where weapons were stored – each compartment with its own metal door – but culprits nevertheless cleanly sawed off the locks and chains from the doors of two of the rooms and helped themselves to the trove of artillery.
In the wake of the incident, seven BDF personnel were detained, statements were collected from them, and they were released; however, none of the firearms were recovered.
One week after it was revealed that the 42 guns were stolen from right under the BDF's nose at Price Barracks, police said that ex-BDF soldier, Dennis Ireland, 25, of Mahogany Street in Belize City, was being sought as a person of interest in connection with the theft.
Ireland turned himself in for questioning the next day, but he was never charged with the heist.
Back in December of 2008, in another similar incident, two BDF soldiers, Sergeant Emmerson Michael, 30, and Lance Corporal Henry Williams, were charged for the theft of 1,340 rounds of 5.56 ammunition, which are used in M-16 and AR-15 assault rifles.
The dangerous ammo – allegedly stolen from the Price Barracks Compound – was reportedly found inside a BDF Land Rover in which they were traveling, and information to police was that they intended to sell the stolen loot to some of the notorious Belize City gangs, but by the time the matter was heard before the court in October 2012, Williams had absconded the country, and Michael ended up beating the charges after the jury returned a unanimous verdict of not guilty based on his testimony.
Before that, there was also another sensational incident in May 2004 when a batch of (24) L109A1 British grenades were stolen from BATSUB (The British Army Training Support Unit Belize), which is also located on the Price Barracks compound.
That revelation, however, did not come to light until November of 2008 when a high-ranking BATSUB official confirmed that the 24 grenades – which were out of a shipment of 500 grenades that the British Army brought into Belize in December of 2003 – were pilfered.
The L109A1 is an offensive grenade designed to kill, and although police detained two suspects and were said to be seeking two more at the time, no one was ever charged or convicted of that theft.
All indications are that those explosives fell into the possession of local organized gangs who subsequently used some of them to unleash terror across the city in a ruthless street war that resulted in the death of two teenagers – Darren Trapp, 16, who died when a grenade exploded in an area where he was standing on Mayflower Street in May of 2008, and Rudolph Flowers, 14, who was similarly killed on Kraal Road in late December 2009 during another deadly grenade attack.
Since May of 2008, four grenades have exploded in Belize and while two have died, over 13 people have been injured in the blasts, which also include a grenade being thrown into a crowd in front of the Karl Heusner Memorial Hospital on Carnival Day in September of 2008, and the casting of an offensive grenade onto the roof of the home of the then Comptroller of Customs, Gregory Gibson, in March of 2009.
As those harrowing incidents come back into mind, the public – particularly in Belize City – is arguably on edge, since it is believed that this entire weapons cache that was recently heisted may currently be on the streets, adding fuel to the fire of the unending urban gang warfare which, unfortunately, seems to know no end.
Worse, it is evident that for these weapons and ammunition to "vanish" from a compound that should be securely guarded by a number of professional soldiers, "24-7," more than one officer has to be involved.


Related Articles
Share
About Author
(0) Readers Comments