Headline
— 25 November 2017
— by Rowland A. Parks
ST. MARGARET, Wed. Nov. 22, 2017–Last weekend's Garifuna Settlement Day celebration was marred by two road traffic accidents that resulted in four fatalities at the same location, less than 24 hours apart.
In the wake of those two tragic accidents over the long Garifuna Settlement holiday weekend, the Ministry of Works, Belmopan police, and Cisco Construction have teamed up today to increase the safety of drivers using the one-lane bridge at St. Margaret, on the Hummingbird Highway, by placing the necessary signs on the approach to the bridge and erecting a guard rail.
The latest and most horrific accident occurred on Sunday afternoon, and it resulted in the deaths of three men. The men had spent a part of their weekend celebrating Garifuna Settlement Day in Dangriga Town.
Harold Albert Smith, 37; Alonzo Fraser, 37; and Marlon Flowers, 41, were on their way back to their homes in Burrell Boom on Sunday afternoon when Smith, who was the driver of a gold Toyota Camry car, lost control of the vehicle, and it careened off the bridge and landed near the bank of the river below, with its four wheels up in the air.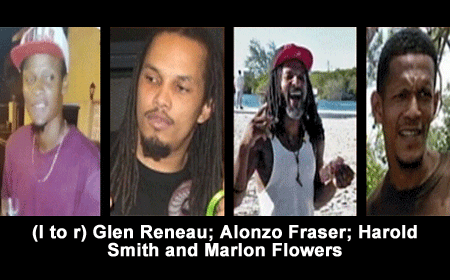 Smith was trapped inside the car and when he was removed, it turned out that he had already died.
Alonzo Fraser was found outside the vehicle. He was already dead as a result of the impact of the accident.
The third man, Flowers, was transported to the Western Regional Hospital, but he succumbed to his injuries and was pronounced dead on arrival at the hospital.
Also, on Saturday night, sometime after 9:30, a Belize City man and two of his friends were heading to Dangriga Town in a Honda Accord car.
Upon reaching between Miles 31 and 32 at the narrow bridge in St. Margaret, the driver of the car, Glen Bert Reneau, 36, a construction worker and resident of Neal Pen Road, lost control of his vehicle and his vehicle ended up in the water under the bridge.
Reneau sustained serious head and body injuries and died on the spot.
Traveling with Reneau was Maria Ramirez, 21, who suffered an injury to her left foot, and Glendale Ramos, 26, who suffered an injury to the right hand. Reneau was transported to the Western Regional Hospital, where he was pronounced dead on arrival.
An individual who is used to traveling on the Hummingbird Highway explained that the approaches to the one-lane bridge in St. Margaret's Village increase the danger at this spot immensely. He explained that drivers don't slow down sufficiently when approaching the bridge, because they want to beat the traffic from the other side.
The approaches are narrow and not properly balanced, so drivers are not in perfect control of their vehicles when they arrive at the bridge, we were told.
Related Articles
Share
About Author
(0) Readers Comments