BELIZE CITY, Mon. Oct. 30, 2017–Alvin Hubert Diamond, the proprietor of Mike's Club on Regent Street West, died between last night and this morning, his son Glenford Diamond, 60, told Amandala tonight.
"He was always a good man," Glenford said of his father. "He was a man who pioneered and championed a lot of good sporting activities, especially dominos. He always used to be a manager for dominos, in the 1970 and 80s." Glenford recalled.
Glenford described his father as "a human man, who gave away everything he had and left with nothing."
Amandala asked Glenford if his father was ill.
"He was a hypertension sufferer," Glenford informed us. "The last time he visited doctor was just this past Saturday.
Amandala asked Glenford to describe the relationship his father had with Mike's Club.
"It was a long relationship that he had with the club, from in the 1970s. He took over Mike's Club from around 1977. He was renting the club from the Sikaffy family. They own the building up to now," Glenford explained.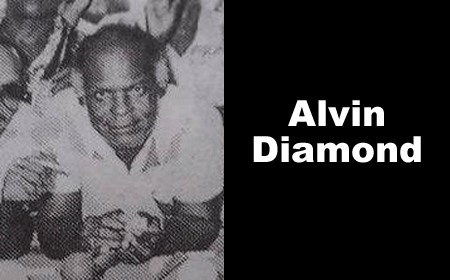 Apart from his activity of managing the club, what else can you recall about your father.
"He was a happy-go-lucky man. He loved to party, and anywhere in the districts where dominos were playing he would turn up," Glenford said.
"He had a team of his own named Mike's, which became Tough Guys and won several championships. During that same era, you had Evan X Hyde, he used to manage Tough Guys, and the captain was the great Ashton Molino, known as "Ifa." He was X Hyde's good friend," Glenford recalled.
Glenford said that funeral arrangements for his father have not been made as yet, because the family is awaiting the arrival of relatives from the United States.
Mike's Club was established as a membership club by the late Miguel "Mike" Zayden in 1962, the year after Hurricane Hattie. Mike's was first famous for its carom billiards tournaments, and champions from the 1960s and 1970s included the late Francis Codd (twice champion), the late Eric "Pinto" Thompson, Stanley "The Big Fisherman" Bell, Bernard Pickwoad, and Arthur "Tureto" Neal.
Mike Zayden had rented the building from the Sikaffy family, and he made arrangements with the Sikaffy patriarch to have Alvin Diamond, who had worked with Mr. Zayden for years, to run the club after Mr. Mike's death, and for Diamond to be protected until he died.
There is reason to believe that Sidney Sikaffy, the Sikaffy family heir, may demolish the old wooden building that housed Mike's now that Alvin has passed.