Headline
— 26 January 2016
— by Rowland A. Parks
BELIZE CITY, Mon. Jan. 25, 2016–A former Belize Defensc Force soldier was released on a $1,000 bail this afternoon after he was arraigned before Senior Magistrate Sharon Fraser on a charge of wounding against his ex-common-law wife.
One of the conditions of his bail was that he should stay away from the complainant, but hours after being granted bail, he allegedly violated the court order by passing around the complainant's house, allegedly making threats that he would kill her and their children.
Rennick Baizar, 32, pleaded not guilty to wounding Shawna Gillett, 28, his ex-common-law wife and the mother of their four children.
Baizar is scheduled to return to court on March 23.
This latest incident for which Baizar was arrested and charged occurred in the early morning hours of Saturday, January 23, when he ran into Gillett, who had gone out with some friends and was sitting on the seawall in the Newtown Barracks area in front of Elements nightclub.
Gillett, who visited Amandala this evening, explained what happened between Baizar and her that led to him being charged with wounding her.
"I saw my children's father approaching me and when he got in front of me, he asked me what I was doing out here. He said 'let's go home now'. A couple of minutes later he shoved me hard in my chest and I fell backwards into the sea," Gillett said.
"Apparently, I hit my head on a rock or something, and I became unconscious. When I regained consciousness I was in the Karl Heusner Memorial Hospital," Gillett explained.
"Some of the persons that I was along with gave me the story about what had happened. They informed me that someone from the nightclub jumped into the sea and saved me. They gave me CPR and put me in an ambulance," Gillett said.
Gillett explained that less than a month ago, Baizar had attacked her in her neighbor's yard.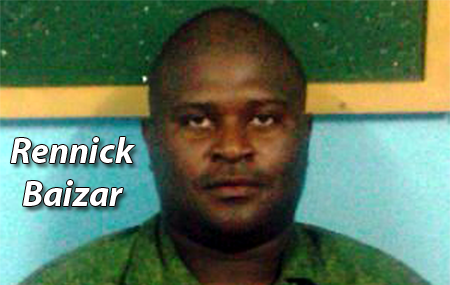 "He lashed me out with a stick. I made a report to police and they did their job. They arrested him and charged him," Gillett recalled. "I think he was charged for harm, but I am not sure of the charge," Gillett said.
She said that that matter is still before the court, and that he got bail.
There is another matter that occurred on New Year's Day, said Gillett. "He harassed me when I went to Pier 1 (at BTL Park), and he also got bail for that. So those two matters are still before the court," she said.
Gillett said that she had gotten an order of protection against Baizar, but that order has expired and she is in the process of seeking another order of protection.
"My order just expired on Monday, January 18. So I have to approach the court for another order of protection, because since he came out on bail today, he passed by my house and told my children that he is going to kill me and that he will kill them," Gillett told Amandala, with tears in her eyes, before she went to the police's Domestic Violence Unit to file another report.
From the police's Domestic Violence Unit tonight, Gillett spoke to us and told us that her children gave police a report about the threat to their lives allegedly made to their mother by Baizar, and that Kremandala's Ya Ya Marin-Coleman was with her and encouraged her to stay for the night in the shelter for battered women, but Domestic Violence Unit police assured her that Baizar would be detained for the night, so it was safe for her to return home with her children.
Tonight, Amandala asked Gillett what Baizar wants from her.
"I guess he wants my life to end. He wants to kill me. He said nobody else will have me," Gillett answered.
Gillett said that she has known Baizar since she was around 13 years old, "…because we grew up in the same neighborhood." "We have been separated for about a year now. I got tired of the abuse and so I had to get strong. He texted me and threatened me, telling me that if I get anybody else, he will kill me. My kids are getting some counseling to try to help them out," said Gillett.
Related Articles
Share
About Author
(0) Readers Comments