BELIZE CITY, Mon. Feb. 23, 2015–In his interview last month with FIFA.com, retiring Argentinian #10 Juan Roman Riquelme said "The ball has given me everything…. The best toy I've ever had, or could ever have, is a football…" His passion is shared by hundreds of Belizean children.
Thirty years ago, Belize, Panama and Nicaragua were called the "whipping boys of Central America." Today, Panama is a football powerhouse, having gone to penalties in the finals of the CONCACAF Gold Cup against the USA. They got there, like Costa Rica, by building their program with an emphasis on the youth. And they provided the resources needed – the infrastructure and equipment, and the support and training for coaches.
One Belizean among many of us who got fed up with our slow progress and depressing cycle of embarrassment in international competition, was New Jersey based Michael Lindo, who had migrated over 40 years ago. And he decided to do something about it.
Receiving little encouragement from the local football authorities, the FFB, Michael decided on a different approach. He contacted a number of Belizeans at home and abroad, and developed a plan to positively impact the football development program in Belize, focusing on the youth initially. His plan was to secure donations from individuals and international organizations in the U.S., to provide needed equipment, starting with footballs, to ensure that each Belizean child gets a chance to play football and enjoy the beautiful game.
It was a lot of work. Big organizations abroad just don't give to any slick talker who comes along. But today, BelCare Youth Football Academy, Michael's dream, has become a reality, and is the vehicle through which Belizean children were showered with the blessing of footballs by the hundreds over the past weekend, in San Ignacio and in Dangriga. The Festival was held in conjunction with Adventures FC, managed by Cruz and Raul Gamez, in San Ignacio; and with Umadagu FC, managed by Stephen Laurie, in Dangriga. And there is more to come.
It's a story that is best told by BelCare Chairman Michael Lindo, who will be a guest on Krem WUB on Thursday morning. Michael was joined on his visit this past weekend by a U.S. based Belizean lady, Marcelli Cattouse, a former St. Hilda's star athlete, who played a major role in contacting donors and facilitating the process to get the goods delivered to BelCare for Belize's children.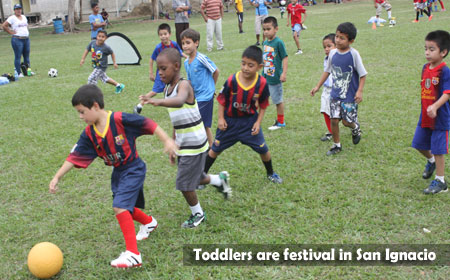 In his welcoming address on Saturday to the parents and coaches present along with the children, BelCare President Dean Flowers said that BelCare Academy "is the brainchild of the Chairman, Mr. Michael Lindo," and he thanked Mr. Lindo, on behalf of the children of Belize, for his great effort which has led to the formation of this wonderful organization.
The footballs BelCare brought to Belize were donated through Chevrolet's One World Football Project and came in sizes 4 and 5 according to the particular age group. The balls are unique, in that they are self-inflated and almost indestructible; and their mustard brown color, with the Chevrolet One World Football Project boldly imprinted on the surface, make them clearly distinguishable from other footballs in Belize.
BelCare's first Grassroots Football Festival was held on Saturday at Sacred Heart College field in San Ignacio in conjunction with the Adventures Football Club, who received 26 cases of footballs (10 balls per case) for distribution to youth football clubs in San Ignacio/Santa Elena and other villages in the Cayo district. Eight clubs were in attendance with their coaches, who each received two cases of footballs. Teams at the Festival were IRKA Succotz FC (coach Wilson Pat); Santa Elena Primary (coach Mark Grajalez); Bishop Martin Primary (coach Matias Moh); Cayo Avengers (coach Joseph Waight); Sacred Heart Primary and Hearts Club (coach Carlos Chavez); Faith Nazarene (coach Gustavo Perez); Sacred Heart College (coach Trisha Silva); and Adventures Football Club (coaches Cruz and Raul Gamez). Other clubs who have contacted Adventures will also soon receive their footballs.
At the Carl Ramos Stadium in Dangriga, the whole field was busy with over 250 children having fun playing small sided games in their apportioned spaces with some 18 teams represented. A case of 10 footballs each was received by Wagiya FC (received by parent Rachel Moss on behalf of coach Warren Moss), Umadagu FC (coach Stephen Laurie), Pomona FC (coach James Logan), Gulisi FC (coach Milton Palacio), Montise FC (coach Glenn Vicente), Hopkins Esanigu (coaches Denton Martinez and Gabriel Casimiro), Wagierale FC (coaches Charles Mariano and Stanley Murillo), Silk Grass FC (coach Desiree Aranda), Hopkins FC (coach Ms. Raylene Young, assistant Francisco Lizama), Holy Ghost FC (coach Carlton Sampson), Benguche FC (coach Simon Palacio), Hopkins Survivors FC (coach Paul Bradley), Sacred Heart Primary FC (received by parent Ericka Jang on behalf of coach Clifton Lorenzo), Methodist Primary FC (coach Dorothy Mariano), ANRI High (coach Stanley Murillo), Delille High (coach Gilbert Palacio), Georgetown High (coach Norman Koko), and Ecumenical High (coach Philip Marin).
Related Articles
Share
About Author
(0) Readers Comments