BELIZE CITY, Mon. Jan. 11, 2016–A new World Bank report titled, Global Economic Prospects, January 2016: Spillovers amid Weak Growth, reports that the Belize economy grew at an estimated rate of 3% in 2015, down from a rate of 3.6% in 2014. It reports that Belize's forecasted GDP growth for 2016 will be lower – at 2.5%, which would represent the third consecutive year of GDP decline for Belize.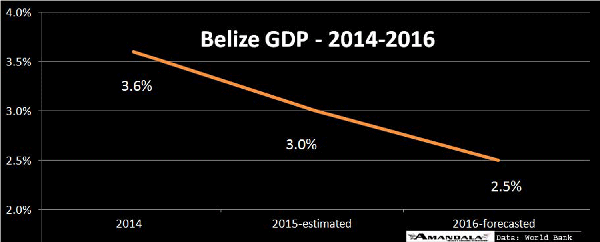 The world economic forecast was also positive, according to the report, which said that, "…global growth is poised to recover modestly, by 2.9 percent in 2016, after (once again) falling short of expectations at 2.4 percent in 2015, held back by weak capital flows to emerging and developing countries, weak trade and low commodity prices."
It raises expectations that "….China will steer its economy to a more consumption and services-led growth and the monetary policy tightening cycle in the United States will proceed without undue turbulence; as a consequence, global growth will see a modest upturn."
"The Caribbean is projected to expand at an average of 3.0 percent in 2016-18, in light of some positive spillovers with the continued U.S. expansion. Similar to Central America, remittance flows to the Caribbean have been robust and stable. Moreover, Caribbean economies have been buttressed by increasing tourism," the World Bank's 2016 Global Economic Forecast said.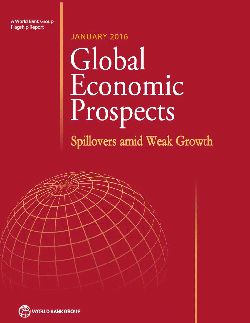 The flagship report of the World Bank group elaborates that, "Economic activity in the broader Latin America and the Caribbean contracted in 2015, amid lower commodity prices, decelerations in major trading partners, and persistent domestic challenges among the region's largest economies."
Although Belize's economic growth is expected to lag behind the Caribbean average, the 2016 forecasted rate is substantially above the average growth rate for Latin America at the Caribbean (LAC), forecast at 0.1%—and even that is an improvement over the level of growth reported for 2015, when the regional economy saw its GDP contract by 0.7%.
In making specific reference to Belize, the World Bank 2016 report notes that, "Lower crude oil prices – down around 45 percent from 2014 levels – have reduced export earnings and fiscal revenues of regional oil exporters, such as Belize, Colombia, Ecuador, Mexico, and the República Bolivariana de Venezuela."
It said that the reduction in crude prices "…hurt tax and export revenues, and exerted pressures on fiscal balances of oil exporters (Belize, Colombia, Ecuador, Mexico, Venezuela)."
It also spoke of the impact of changes in the PetroCaribe oil accord.
The report said that, "The República Bolivariana de Venezuela's Petrocaribe program, which provides subsidized oil to certain countries, is one possible channel of negative spillovers to its LAC neighbors. The economic downturn in the country has led to a scaling-down of the program, but the impact has been limited by the sharp fall in oil prices."
The report said that, "Oil prices are projected to average $49 per barrel in 2016, and then rise only gradually."
See the full report below: