Features
— 25 March 2017
— by Bilal Morris
Meeting the legendary Belizean football goalkeeper, Rupert Anderson, for the first time in person after seeing him play so many games as the "hard to score on" iron clad defense for first Landivar in the 1960s and early 70s, then Spurs, and later on White Label in the late1970s and early 80s, Belizean Legends embarked on one of the most ambitious productions to date two weeks ago to document the incredible story of one of Belize's most celebrated athletes of all time.
The keen vision of Belizean sports enthusiast and athlete, Evondale "Coby" Coburn, who invited yours truly to Florida to chronicle the life and times of the man they called "Canalayte," Rupert Anderson, has got to be appreciated here. Being a visionary in many ways, Coby saw the story and pressed me urgently since the long time Belizean goalkeeper has been ailing, and found it very important that Anderson's classic work as probably Belize's best goalkeeper of all times be respected and not be forgotten.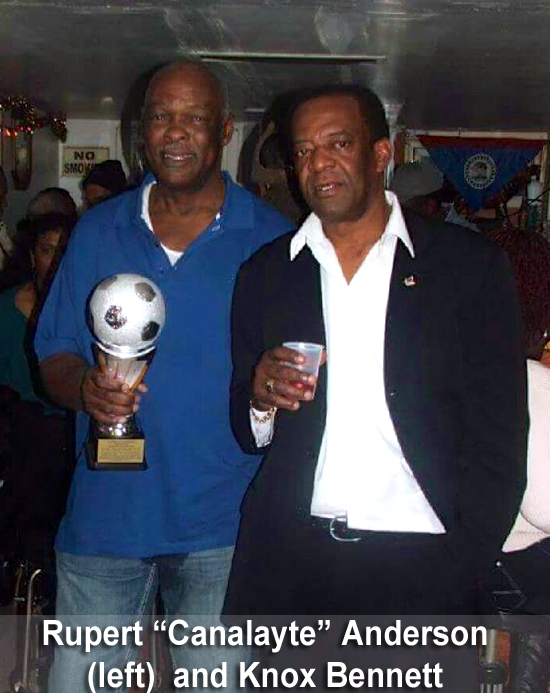 Spending some quality time at the home of Anderson's sister, Glenda Guerrier, in Fort Lauderdale, Florida where he is excellently cared for, and chatting with him in detail about his vast sports history as a Belizean football player and legendary athlete, "Canalayte" was most inspired himself about the story, and took me through the journey of his sports life while getting his brain power fed by memorable photographs of the golden age of Belizean football that he remembers so well.
Our two days of just discussing Belize's football era that is not there anymore, prior to the interview, was a necessary prelude to the awesome interview that was to come. It prepared Canalayte well, though he confessed to be in great pain and discomfort as we spoke for hours, and would retire to bed occasionally to rest. He would soon return again shortly to continue the previous conversation.
Anderson's sense of humor was most expressive, especially when he was joined by his long time best friend and team colleague, Knox Bennett, who also flew in from Los Angeles, California to celebrate with his dear friend and team player. Just sitting there listening to these two men's conversation about football, entertainment, and life in Belize, thrilled me emotionally, and made me trip off into "memory lane" as to how spirited and full of happiness and joy that period of Belizean football greatness was. These were sensational historical moments that will not again return to Belize, and were described so passionately in Evan X Hyde's book, "Sports, Sin & Subversion."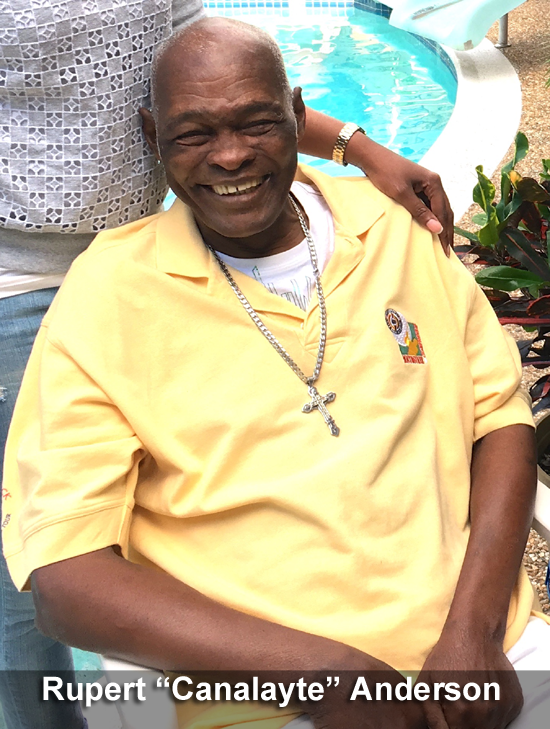 This is just a prelude to one of the most sensational interviews ever done by Belizean Legends about Belize's football greatness of the 1960s, 70s and 80s. We remember with the deepest respect and appreciation the dynamic work laid down in Belize's football history by the athlete they called"Canalayte," one of Belize's most skillful goalkeepers.
Rupert Anderson is quite a renaissance man in his own right, and won my admiration and respect as he described crucial chapters of Belize's football history despite his illness as he turned 70 years old. He did it all in Belizean football, and is hailed today as one of Belize's greatest athletes.
Surge on, Canalayte. Live in this life like you are going to live forever. And thanks for talking to Belizean Legends, champ!
COMING SOON TO BELIZEAN LEGENDS ON KREM TELEVISON!
Related Articles
Share
About Author
(0) Readers Comments