Joo emerges as the Opti Fleet National Champ
BELIZE CITY, Thurs. Nov. 2, 2017–After delays and postponements due to inclement weather and poor wind conditions, the Belize Sailing Association's (BzSA) National Championships for the Optimist class boats got underway on Saturday and Sunday, October 28-29, at the BTL Park in Belize City. Twelve competitors from 3 clubs participated, and at the end of 2 days of racing, 14 year-old Peter Joo of Placencia Sailing Club clearly demonstrated that he is now the top sailor in the Optimist fleet in Belize.
The first day of sailing hardly had enough wind for race officials to continue with races, but after several prior postponements, officials proceeded with 5-knot winds. Joo showed that he had acquired significant techniques in light-wind sailing, and took 4 of the 6 races by as much as 10 boat lengths. Sailors eventually learned to cope with a steady and strong current running from the north to south that is common knowledge for sailors that sail in the Belize City Habour. However, it may have been over confidence in the 2nd races that led to a lapse in judgement, as he missed the 2nd mark in the 2nd race and lost standings, coming in at the tail of the fleet. He recovered quickly, and gave one other 1st place, up one to 15 year old Devaughn Morrison of Corozal Bay Sailing Club, in race four. Morrison was able to secure 2nd place overall, and 13 year old Adyanerie Teck of Corozal Bay Sailing Club moved up in position to 3rd place.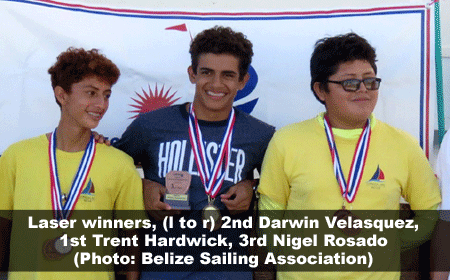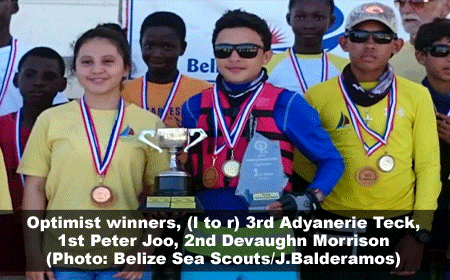 BzSA also hosted a Laser Class event. Trent Hardwick of the Belize Sea Scouts took 1st in all 4 races; Darwin Velasquez of Corozal Bay Sailing Club (CBSC) settled for 2nd place; and Nigel Rosado, also of CBSC, took 3rd place. There was a delay with equipment for the CBSC, and, demonstrating good sportsmanship, Hardwick agreed to wait for CBSC to proceed with races.
BzSA will be announcing the upcoming regattas scheduled for March of next year, which are the Baron Bliss Habour Regatta, to be held on March 5, and the Buttonwood Bay Regatta, to be hosted by the Belize Sea Scouts on March 4.
– press release –