Headline
— 24 December 2015
— by Johnelle McKenzie
BELIZE CITY, Tues. Dec. 22, 2015–On December 10, the supervisor of the Express Mail Section (EMS) of the Post Office had informed the Postmaster General Elston Wade that something was not right in her section. That same day, the supervisor made further checks into the matter and confirmed that her suspicions were correct, James Gabriel, Deputy Postmaster General of the Post Office, told Amandala.
The theft is the second to take place at the Post Office; in May, another cashier stole $20,000
Gabriel said that the supervisor discovered that the cashier was responsible for the disappearance of funds amounting to over $10,000 in the months of October and November.
Gabriel explained what went wrong: When a customer pays for his/her express mail to be sent, a receipt is to be issued to the customer, filed, and entered into the computer, and thereafter, the package is mailed.
However, the cashier was not filing or entering these payments, but instead was pocketing the money.
According to Gabriel, while the general section of the post office processes a higher volume of transactions from the public, a smaller number of transactions take place in the EMS section, but each transaction typically involves a larger sum of money, since the cost to mail an item starts at $50.00.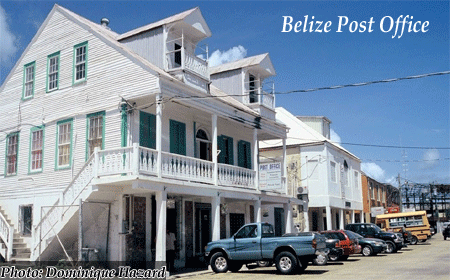 After the discovery, the supervisor wrote a report to the Postmaster General, who forwarded it to Ruth Meighan, the Chief Executive Officer (CEO) in the Ministry of Works, Transportation and NEMO, who will forward the information to the Public Service Commission, which will be responsible for determining what necessary actions are to be taken against the cashier at their next meeting, Gabriel said.
Meanwhile, the officer who has been fingered as being responsible for the disappearance of the funds remains at the Express Mail section, but in a different position, without any assigned task, until the Public Service Commission meets and decides upon that individual's fate, Gabriel said.
Amandala readers will recall that in May of this year some $20,000 went missing and had reportedly been misappropriated by the institution's cashier at that time, who had absconded. The present cashier who has been accused of a similar act of theft has been working at the Post Office for seven years and was the person who took over from the previous cashier who had misappropriated the $20,000.
The two misappropriations of funds together amount to over $30,000. Gabriel said that when things like these occur, "It is the taxpayers who suffer, because this would have otherwise been revenues paid into the government."
Related Articles
Share
About Author
(0) Readers Comments